To all you guys
dat got hitched on da rebound


take some worthwhile advice—


Blood is thickah den watah
if you not da faddah of da kids.


It doesn't mattah
if dey young or oldah


she going defend dem
like wun mama lion


wit teeth and claws exposed.


If you taught
you wuz numbah one in her life


you got anadah ting coming.


Da maternal urge
going trump your opinion


every day of da week.


No sense get frustrated
and make tings moa worse


cause you going only lose in da end.


Dat wedding band of yours


going be in da pawn shop
before you know it


and you going be in wun apartment
while she gets da house.


No try grab wun greased pole
and tink you going win da debate


cause da situation going drive you crazy
and out da door.


It would be wise
to listen to dis warning—


If you like stay married


just accept dat you are numbah 2
if she get one or moa kids in front of you.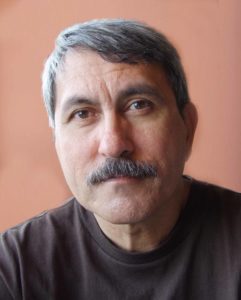 Joe Balaz writes in Hawaiian Islands Pidgin (Hawai'i Creole English) and in American-English. He edited Ho'omanoa: An Anthology of Contemporary Hawaiian Literature. Some of his recent Pidgin writing has appeared in Rattle, Juked, Otoliths, and Hawai'i Review, among others. Balaz is an avid supporter of Hawaiian Islands Pidgin writing in the expanding context of World Literature. He presently lives in Cleveland, Ohio.


www.facebook.com/PoetryLifeTimes

[email protected]
[email protected]

Key of Mist. Guadalupe Grande.Translated.Amparo Arróspide.Robin Ouzman Hislop

goodreads.com/author/show/Robin Ouzman Hislop
http://www.aquillrelle.com/authorrobin.htm
http://www.amazon.com. All the Babble of the Souk. Robin Ouzman Hislop
www.lulu.com. All the Babble of the Souk. Robin Ouzman Hislop
https://www.amazon.com/author/robinouzmanhislop



www.facebook.com/PoetryLifeTimes

[email protected]
[email protected]

Key of Mist. Guadalupe Grande.Translated.Amparo Arróspide.Robin Ouzman Hislop

goodreads.com/author/show/Robin Ouzman Hislop
http://www.aquillrelle.com/authorrobin.htm
http://www.amazon.com. All the Babble of the Souk. Robin Ouzman Hislop
www.lulu.com. All the Babble of the Souk. Robin Ouzman Hislop
https://www.amazon.com/author/robinouzmanhislop