Mystery is grand in the old barn,
seeking your way through lost treasures,
misplaced identities of days long gone.
A forgotten window remains hidden
below corrugated panes, half rotten boards,
between darkness and obscurity.
Eyes to the two sides of a complete tale.
in slumber of deep decades under the dust
of lives only it keeps in its memories.
The mirror of two souls in a-temporal gaze
speaks only to the accomplice of the one
who once sealed its fate in an unlikely safe.
Time capsule in paragraphs of broken dreams,
in cobb webs, as in a shady shroud,
its fractures will never heal, signatures of the past.
I carry the remains to light, as if to resuscitate a pal,
another self in the stories frozen, immobile,
and to chance upon images of those now lost.
Fabrice B. Poussin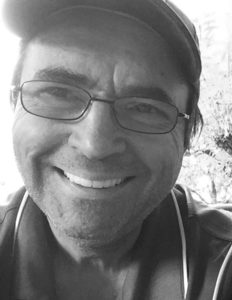 Fabrice Poussin teaches French and English at Shorter University. Author of novels and poetry,
his work has appeared in Kestrel, Symposium, The Chimes, and dozens of other magazines. His photography
has been published in The Front Porch Review, the San Pedro River Review as well as other publications.
Robin Ouzman Hislop is Editor of Poetry Life and Times his publications include All the Babble of the Souk and Cartoon Molecules collected poems and Key of Mist the recently published Tesserae translations from Spanish poets Guadalupe Grande and Carmen Crespo visit Aquillrelle.com/Author Robin Ouzman Hislop about author. See Robin performing his work Performance (University of Leeds)