Our societies are in deep crisis. The latest strand of the capitalist-nationalist virus is particularly aggressive: Brexit, Trump and various other ethno-populist movements across the Globe, disguised under democratic wrappings, represent a great danger for Humanity and Nature. Wars, discriminations of all types and poverty will only get worse in the New World Dis-order. In this book, Goddess opens proceedings and summons culprits, victims and heroes to make their case in poetic form: irony, joy, bitterness and hope come together through rhythmic directness and daring metaphors. The first book of the Goddess Series, Los viajes de Diosa (The Travels of Goddess), was published in 2015 in Spain and came as a response to the Great Recession. Tony Martin-Woods is an artivist who lives in England since 1995. He runs Transforming with Poetry at Inkwell, Leeds, and contributes to 100 Thousand Poets for Change. Under his Spanish name, he directs the digitisation project Poesía Ártemis and is the UK Delegate for Crátera, where he publishes translations into Spanish. His work has appeared in various anthologies and in Poetry Life and Times. https://www.amazon.co.uk. Goddess Summons Nation Tony Martin Woods by Antonio Martínez Arboleda (Author)

Excerpt from Goodess Summons the Nation. Editors Note: A visit via the link allows you a Look Inside to see the Table of Contents, available also on Kindle:

THE NIGHT OF TRUMP

I woke up suffocated
by the mare of the night.
I held my heart,
my breath,
and grabbed
my iPad:

I looked through the screen
like an agonising wizard
who casts
his eyes
on the hidden
guts
of a crystal
ball.

How many emotions,
how much attention,
could the map
of the States
withstand?

Never,
never
red and blue,
the numbers of colleges,
the random borders
of arbitrary plots
meant to me
what they meant that night:

an evil that no soul
will ever forgive,

a twilight that our dawn
will have to redeem.


T I M E TO LEAVE B R E X I T


I've never been an island,
Nor a chunk of it.
I could never be one
Cause I'm a social being
made of flesh
And emotions.
And so are you.


Cake it or Leave it:


We never were an island,
In fact there is no We
That anyone speaks for.
The sea is mainly a friend
An open road for all.
Storms are exceptions,
But national hyperventilation does not help.


Cake it or Leave it:


Our hearts are big enough
To cherish complex loyalties
Like we love mothers and fathers
And brothers and sisters
We can love England,
Yorkshire,
Britain,
Leeds
Europe,
London,
Spain
In an equal
Non-conflicting manner.


Cake it or Leave it.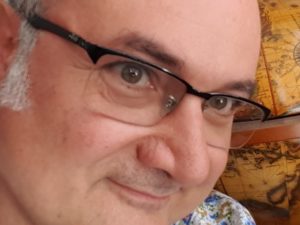 www.leeds.ac.uk/arts/people/Spanish Portuguese and_Latin American Studies/Antonio Martinez Arboleda

Antonio Martínez Arboleda:
Tony Martin-Woods started to write poetry for the public in 2012, at the age of 43, driven by his political indignation. That same year he also set in motion Poesía Indignada, an online publication of political poetry. He runs the poetry evening Transforming with Poetry at Inkwell, in Leeds, and collaborates with 100 Thousands Poets for Change. Tony is also known in the UK for his work as an academic and educator under his real-life name, Antonio Martínez Arboleda. His project of digitisation of poetry, Ártemis, compiles more than 100 high quality videos of Spanish poets and other Open Educational Resources. http://www.artemispoesia.com/. He is the delegate in the UK of Crátera Revista de Críticay Poesía Contemporánea , where he also publishes his work as translator from English into Spanish. He published his first volume of poetry in Spanish, Los viajes de Diosa (The Travels of Goddess), in 2015, as a response to the Great Recession, particularly in Spain. His second book, Goddess Summons The Nation, is a critique of the ideas of nation and capitalism, mainly in the British Brexit context. It incorporates voices of culprits, victims and heroes with mordacity and rhythm. It consists of 21 poems, 18 of which are originally written in English. It is available in print and kindle in Amazon and other platforms.



Robin Ouzman Hislop is Editor of Poetry Life and Times his publications include All the Babble of the Souk and Cartoon Molecules collected poems and Key of Mist the recently published Tesserae translations from Spanish poets Guadalupe Grande and Carmen Crespo visit Aquillrelle.com/Author Robin Ouzman Hislop about author. See Robin performing his work Performance (University of Leeds)