She was a creeping winter,
coiling and settling into the wardrobe
of my lined collections-
 
of cassettes and clothes
(Scattered in a bachelor's room)
 
Suits arranged by brands
fragranced by sensuous nights
brought by you molded me
into a gentleman
below uncombed hairs
and unwashed hands.
 
I was into lessons to be clean
while
I was feeding on my love.
 
From a scrappy life
beside a pond
abound with weeping cranes
she was the only fish
in front of my hungry beaks.
 
Short-lived and destructive
as most pleasures are
I am wedged back
into an untidy shiver
 
from an act worthy of no mercy.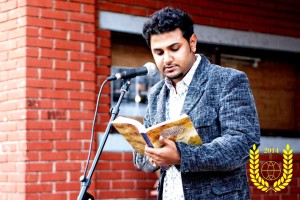 Sonnet Mondal is an Indian poet of the twenty first century generation and has authored eight collections of poetry. He was featured as one of the Famous Five of Bengali youths by India Today magazine in 2010 and has edited & written forewords of several books of Indian poets. His works have appeared in several international literary publications including The Sheepshead Review (University of Wisconsin, Green Bay), The Penguin Review (Youngstown State University), Two Thirds North (Stockholm University), Fox Chase Review, The Stremez (Supported by The Ministry of Culture, Macedonia), California State Poetry Quarterly (California State Poetry Society), Nth Position, Dark Matter Journal(University of Houston-Downtown) and Friction Magazine (New Castle University & New Castle Centre of Literary Arts) to name a few.

He has been Writer of The Month at the Spark Magazine in June 2012, was featured as an achiever in The Herald of India in 2010 & featured in E-view points in Rockfordkingsley ltd. in 2012 and was a featured poet at Tea with George at Desperanto Publication Ltd. (now defunct).

His works have been translated in Macedonian, Italian, Albanian, Urdu, Arabic, Hindi, Telugu and Bengali.

He is the Editor in Chief of The Enchanting Verses Literary Review and Editorial Board member of Multilingual Magazine Levure littéraire based in Paris, France.
Details of his works can be found at www.sonnetmondal.comwww.facebook.com/sonnet.mondal


editor@artvilla.com
robin@artvilla.com

www.facebook.com/PoetryLifeTimes
www.facebook.com/Artvilla.com