What will they say of you in future times?
Were they duped by your duplicity
or did you fall on your double-edged sword?
Was the devil we knew any better than the unknown?
The future has a way of arriving early.
Are you ready now, for what it yet may bring?
Will you be knighted, or, benighted and beleaguered,
Fall fallow by the wayside of your ways?
Will the name of Cameron carry on,
Whatever else is lost or left behind?
Will David slay the apocolyptic giant of global warming,
yet terminate the service of National Health?
Was it wealth, or a poverty of emotional maturity
that led to such flotations and privatisations?
what sensations did you feel, did you reach referendum,
did you feel the earth move?
We never saw your manifesto made manifest.
We, the voters who voted not for you,
yet saw you rise, anticipate your fall.
Do promises count as any kind of plan?
And the future is arriving post-haste,
like a present waiting to be unwrapped.
Elections have a way of arriving early.
We are ready, with a big sharp X.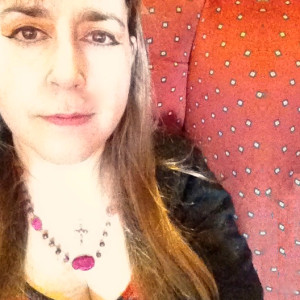 Sara Louise Russell, aka PinkyAndrexa, is a UK poet and poetry ezine editor, specialising particularly in sonnets, lyric-style poetry and occasionally writing in more modern styles. She founded Poetry Life & Times and edited it from 1998 to 2006, when she handed it over to Robin Ouzman Hislop and Amparo Arrospide; Robin now runs it as Editor from Poetry Life & Times. She is currently founder and Editor of the daily paper.li journal, Poetry Lifetimes ; which is a sister publication to Poetry Life & Times. Her poems and sonnets have been published in many paper and online publications including Sonnetto Poesia, Mindful of Poetry and Autumn Leaves a monthly Poetry ezine from the late Sondra Ball. Her sonnets also currently appear in the recently published anthology of sonnets Phoenix Rising from the Ashes. She is also one of the first poets ever to be published on multimedia CD ROMs, published by Kedco Studios Inc.; the first one being "Pinky's Little Book of Shadows", which was featured by the UK's national newspaper The Daily Mirror, in October 1999. (Picture link for Mirror article)Angel Fire



robin@artvilla.com
PoetryLifeTimes
Poetry Life & Times
editor@artvilla.com
www.artvilla.com
Artvilla.com