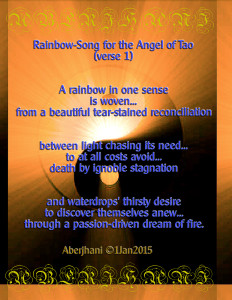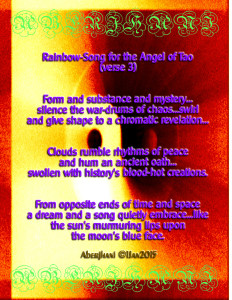 Rainbow-Song for the Angel of Tao
1.
A rainbow in one sense
is woven…
from a beautiful tear-stained reconciliation
between light chasing its need…
to at all costs avoid…
death by ignoble stagnation
and waterdrops' thirsty desire
to discover themselves anew…
through a passion-driven dream of fire.
2.
That forest path known as Tzu's way
is not so very different…
first a butterfly kiss that glows…
the color of dawn's golden eyes…
then another, wet and hungry,
painted like midnight's indigo skies.
The beauty of the one echoes
the secret joy of the other…
cradling harmony inside a tattered soul.
3.
Form and substance and mystery…
silence the war-drums of chaos…swirl
and give shape to a chromatic revelation…
Clouds rumble rhythms of peace
and hum an ancient oath…
swollen with history's blood-hot creations.
From opposite ends of time and space
a dream and a song quietly embrace…like
the sun's murmuring lips upon the moon's blue face.
Aberjhani ©1Jan2015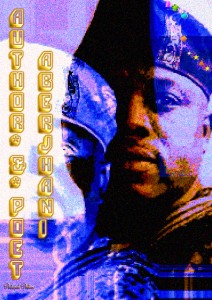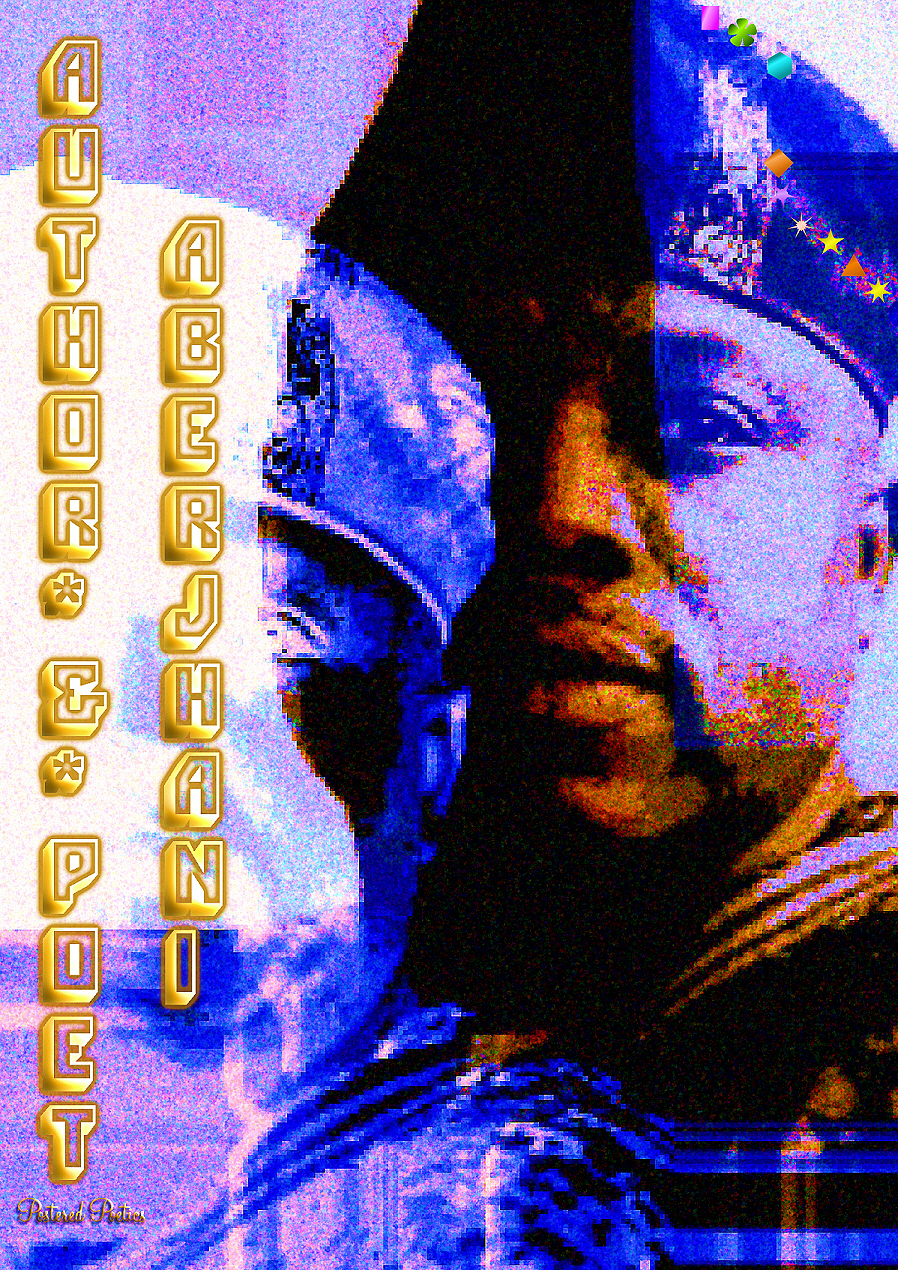 The American-born author Aberjhani is a widely-published historian, poet, essayist, fiction writer, journalist, and editor. He is a member of PEN International's PEN American Center and the Academy of American Poets as well as the founder of Creative Thinkers International. He launched the 100th Anniversary of the Harlem Renaissance Initiative in 2011 and during the same period introduced netizens to concept of guerrilla decontextualization via a series of essays and website of the same name.
He has authored a dozen books in diverse genres and edited (or sometimes co-edited) the same number. His published works include the Choice Academic Title Award-winning Encyclopedia of the Harlem Renaissance, the social media-inspired Journey through the Power of the Rainbow: Quotations from a Life Made Out of Poetry, the modern classic ELEMENTAL The Power of Illuminated Love (a collection of ekphrastic verse featuring art by Luther E. Vann), and the frequently-quoted poetry collection, The River of Winged Dreams.
Among his works as an editor are the Savannah Literary Journal (1994-2001), plus the Civil War Savannah Book Series titles: "Savannah: Immortal City" (2011), and "Savannah: Brokers, Bankers, and Bay Lane-Inside the Slave Trade" (2012). In 2014, Aberjhani was among a limited number of authors invited to publish blogs on LinkedIn. You can learn more about the author at Creative Thinkers International, on Facebook, Twitter, or his personal author website at author-poet-aberjhani.info
robin@artvilla.com
PoetryLifeTimes
Poetry Life & Times