Poetry That Sheds Light On Daily Monotony

A Spotlight on Real Life

For Immediate Release

Sacramento, CA – Songs of a Clerk, another gem by author and poet Gary Beck shows us a unique perspective on life, hope, and our too-often faded dreams. Through his gifted poetry we are pulled in and touched by his relatable and powerful words. A poetic must-read.

With so many of us compelled to work under oppressive treatment for low pay, our dreams of a better life for ourselves and our families have faded under the denial of opportunity, education, and advancement. Songs of a Clerk expresses the anguish and frustration of people trapped in sterile jobs, toiling away in our futureless menial positions in the dehumanizing offices of our lives.

Songs of a Clerk, is a 132 page poetry volume. Available on paperback with a retail price of $11.99, and eBook with a retail price of $5.99. The ISBN is: 978-1-941058-16-9. Published through Winter Goose Publishing and available now through all major retailers. For more information or to request a review copy, contact Winter Goose Publishing at: info@wintergoosepublishing.

Watch the book trailer on YouTube: www.youtube.com/watch?v=QeI295xf6OY


POEMS EXCERPTS FROM SONGS OF A CLERK

(i.)

Clerk's Plea

Should I fall upon my sharpened pencil,
No. 2 lead?
Should I leap upon my desk and scream?
Terrify everyoneuntil they yell:
"You're fired!"
Help me.
What shall I do to escape
the tedious, soul sucking
office.


(ii.)

The Clerk's Song

Hidden in the only ally, unbiased sleep,
the sudden summons rips my exile's cave.
The clock that serves employers cries:
Arise! Dazed, apologetic, I mumble:
"Five minutes." Silence the insistent nag,
my wife of passing ticks.
Stir awake. Oh, no. Overslept.
Fast wash, dry shave, yesterday's suit,
breakfastless rush to the bus,
the guilty fears of lateness.
"Will he see me sneaking in?
"Will he fire me?"Off the bus,
following the tardy hips of typists
to the subway of suffering.
The brief pause in daylight,
the radiant sun gleams unnoticed,
scurry through revolving doors,
"Good morning," to the elevator man,
archbishop of boredom.
My floor, entrance, trying to look
as if I just stepped out for coffee.
The potent eye of accusation falls on me
and I take refuge at my desk.
Sightless, I stare at my papers
(my face my maask of concentration)
dreaming time's faster passage,
yet fearful of its passing.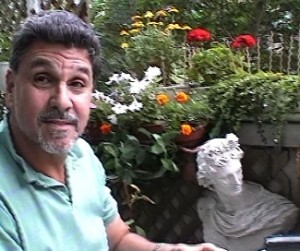 Gary Beck has spent most of his adult life as a theater director. Published chapbooks include: 'Remembrance', Origami Condom Press; 'The Conquest of Somalia', Cervena Barva Press; 'The Dance of Hate', Calliope Nerve Media; 'Material Questions', Silkworms Ink; 'Dispossessed', Medulla Press, 'Mutilated Girls', Heavy Hands Ink and 'Escape to Cyberspace', Writing Knights Press . His poetry collection 'Days of Destruction' was published by Skive Press; 'Expectations', Rogue Scholars Press; 'Dawn in Cities', Winter Goose Publishing; 'Assault on Nature', Winter Goose Publishing. 'Songs of a Clerk', Winter Goose Publishing and 'Civilized Ways' will be published by Winter Goose Publishing. His novel 'Extreme Change' was published by Cogwheel Press; 'Acts of Defiance' was published by Artema Press. His collection of short stories, 'A Glimpse of Youth' was published by Sweatshoppe Publications. His original plays and translations of Moliere, Aristophanes and Sophocles have been produced Off Broadway. His poetry, fiction and essays have appeared in hundreds of literary magazines. He currently lives in New York City.



editor@artvilla.com
robin@artvilla.com
www.facebook.com/PoetryLifeTimes
www.facebook.com/Artvilla.com