This work comprises in an excerpt from the anthology on contemporary Spanish female poets entitled Las Diosas Blancas. Madrid, 1985. Copyright Ed. Ramon Buenaventura. Hiperion. This is an original and unpublished English version of the original poem written in Spanish. Translators Robin Ouzman Hislop and Amparo Arrospide would like to thank Casa del Traductor, in Tarazona and the British Literary Translation Association, East Anglia University Campus.

From this Spanish anthology –compiled by the well-known scholar and translator Mr. Ramón Buenaventura, whom we contacted earlier– a few selected authors were chosen for our joint translation work: Amalia Iglesias: Te buscare para decirte (I Will Find You To Tell You) ,Ana Rossetti: Triunfo de Artemis sobre Volupta (Triumph Of Artemis Over Volupta) and Isolda (Isolda) , Blanca Andreu: Para Olga (For Olga) , Isla Correyero: Los Pajaros (Small Birds), Amparo Amoros: Midas (Midas) and Criaturas del gozo (Creatures Of Joy) , Rosalia Vallejo: Horno en llamarada (A Furnace In Flames) , Maria del Carmen Pallares: Sisargas (Sisargas), Margarita Arroyo: Era el mar lejos del mar ( It Was Sea Away From Sea).

We would like to thank Mr. Ramón Buenaventura and the above name poets, in advance, and let them rest assured that their work is protected by a legal Creative Commons Licence, by virtue of which the above named translators are willing to provide excerpts from their original translation work, provided that readers agree to use it under the terms of such licence. We strongly recommend reading the entire work and the poets', who have continued evolving during these decades.


To Edith Zipperich & Antoni Marí.

It would be useless for us to wonder
why the summer joined us as a nest
of woven hair between its bright hands
to decipher the emblem of the name
over fields of wheat,
to open in branches
to the wakes of chance,
or the fated date,
which summoned us there
or by whom.
To know? What for?
To feel, know and no more!
Everything still lives
and is sufficient now
because the skin of this truth
makes the word and time translucent.

The dovecote. The island. A bonfire of honey
where only we listened to the murmur of the light.
Like that morning
seeping through the earth today was music
its white aroma canvass in the arc
of memory
that recognizes an identical space
yet distinct
in which dwelt the miracle:
here grew an ivy
veins of surprises,
the bay a burst
in a clamor of quartz
and the still pool grew
yellow flowers.

Now, we will never die.
In spite of the pain we will never die.
Even though surrender is a flight
of full hands and nimble feet
and even though the world scarcely lasts
the absolute caress
of transparently winged truth.
How sad temporal chords of perfection!

But listen to the voice
born discarded
in the cave:
we cross its moss green lips
and descend laughing into its dark spring
of desolation.

Destiny left the door half-open
and we learnt from its hinge
the rusted song of complaint:
rags of charity initiated us.

But outside, the buzz of burning crickets calling us,
sunflowers unanimously crackled
like a diaphanous chorus of splinters
and an amber bird
suddenly crossed the sky.

We were simply creatures of joy
freed of pain for an instant,
not intact, but unharmed
from so many occurrences,
full and surrendered
to the flame which momentarily sates
shortage of excess,
to the branch which wreathes the crown of joy,
and warm dates smiled upon by evening's
apron splashed with handfuls of water,
in the fresh innocence
of what has spilt its measure
and brimming overflows
by the grace of this truce,
which at times life gifts us:
to be and to be us, merely
and to be everything
to justify the universe.



AUTORA: AMPARO AMORÓS
TíTULO: CRIATURAS DEL GOZO
A Edith Zipperich y Antoni Marí

Fuera inútil ahora preguntarnos
por qué el estío nos reunió entre sus manos claras
como cabellos que trenzaran un nido,
descifrar el emblema del nombre sobre campo
de trigos,
abrir en gajos
las estelas del azar
o la cita acordada
y ¿por quién?
que allí nos convocaba.
¿Conocer? ¿Para qué?
Sentir, saber, y basta.
Todo está vivo aún
y es suficiente
porque vuelve palabra
la piel de esta certeza
y traslúcido el tiempo.

El palomar. La isla. Una hoguera de miel
donde sólo escuchábamos el rumor de la luz.
Como aquella mañana
hoy trasmina la tierra y era música
su blanco aroma a lienzos en el arca
de la memoria
que reconoce idéntico el espacio
y tan distinto
en que habitó el milagro:
aquí creció una yedra
de venas asombradas,
estalló la ensenadaa
en un clamor de cuarzos
y el remanso crujió
de flores amarillas.
Ya nunca moriremos.
A pesar del dolor ya nunca moriremos.
Aunque es la entrega huida
de manos llenas y de pies ligeros
y apenas dura un mundo
la caricia total con que nos roza
como ala transparente la verdad.
¡Qué triste es el acorde fugaz de lo perfecto!

Pero escucha la voz
que nacía empozada
de la cueva:
franqueamos sus labios de verdines musgosos
y bajamos riendo al manantial oscuro
de la desolación.
Entreabría el destino la puerta
y aprendimos en su bisagra
el oxidado canto de la queja.
Pliegues de caridad nos iniciaban.

Pero afuera, cigarras calcinadas llamándonos a gritos,
crepitaban unánimes todos los girasoles
como un coro diáfano de astillas
y un pájaro de ámbar
cruzó de pronto el cielo.

Éramos puramente criaturas del gozo
a salvo del dolor por un instante,
no intactos, sino indemnes
porque al regreso ya de tantas cosas,
entregados y plenos
a la tea que sacia momentánea
la escasez del exceso,
a la rama estañada que corona de dicha,
a los dátiles tibios que sonríe la tarde
con el mandil cuajado de manojos de agua,
en la fresca inocencia
de lo que ha derramado su medida
y grávido, rebasa y se concede
por gracia de esa tregua
con que a veces la vida nos regala:
ser y sernos tan sólo
y serlo todo
para justificar el universo.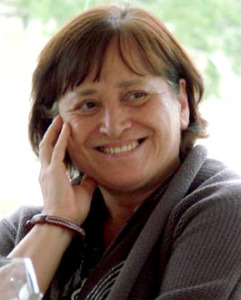 Amparo Amorós was born in Valencia, Spain, in 1950.She has published articles and poems in literary magazines such as Insula, Cuadernos Hispanoamericanos, Cuadernos del Norte, Litoral, El País, La Vanguardia and others. She was awarded an accesit to the Adonais Literary Prize in 1982, for her poetry book Ludia (1983). Other published books include Al rumor de la luz (1985), La honda travesía del águila (1986), El cálculo de la derrota, La cicatriz del agua, Quevediana (1988), Visión y destino, poesía 1982-1992 (1993), Árboles en la música (1995) and Las moradas (2000) as well as her essay La palabra del silencio (la función del silencio en la poesía española a partir de 1969) (1991).Her books have been translated into several languages.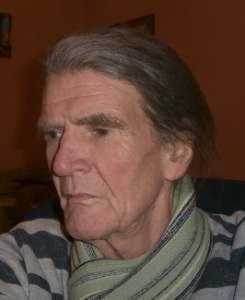 Robin Ouzman Hislop Editor of the 12 year running on line monthly poetry journal Poetry Life and Times. (See its Wikipedia entry at Poetry Life and Times). He has made many appearances over the last years in the quarterly journals Canadian Zen Haiku, including In the Spotlight Winter 2010 & Sonnetto Poesia. Previously published in international magazines, his recent publications include Voices without Borders Volume 1 (USA), Cold Mountain Review, Appalachian University N Carolina, Post Hoc installed at Bank Street Arts Centre, Sheffield (UK), Uroborus Journal, 2011-2012 (Sheffield, UK), The Poetic Bond II & 111, available at The Poetic Bond and Phoenix Rising from the Ashes a recently published Anthology of Sonnets: Phoenix Rising from the Ashes. He has recently completed a volume of poetry, The World at Large, for future publication. He is currently resident in Spain engaged in poetry translation projects.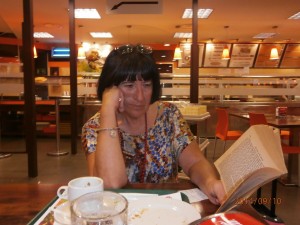 Amparo Arrospide (Argentina) is a Spanish poet and translator. She has published four poetry collections, Mosaicos bajo la hiedra, Alucinación en dos actos y algunos poemas, Pañuelos de usar y tirar and Presencia en el Misterio as well as poems, short stories and articles on literary and film criticism in anthologies and both national and foreign magazines. She has received numerous awards. Together with Robin Ouzman Hislop, she worked as co-editor of Poetry Life and Times, an E-zine from 2008-2012
robin@artvilla.com
PoetryLifeTimes
Poetry Life & Times
editor@artvilla.com