See-Saw Then Reel
A fault-line deforms the lark's sunrise.
Frisco unpents itself, shop-soiling a minute.
Gloating flames cackle for days.
Survivor tents fidget on city-plan lawns.
In a leap-the-queue food line
Kermit the frog recovered his whereabouts
At the brink of intact terrain.
Flash Gear
Foot-long tresses, plum and tangerine blouse,
Ink-smudge breeks – Admiral Horatio Nelson struts.
Carnaby St. is a kinetic three blocks.
In Lord John's portal he rib-digs Joe,
Land-pirate to a clutter of pharmacies,
Shopping list: four honeypots – French Blues.
Currency for peacocks is revels or frills.
Hereafter Chimneys
Reactors superheat uranium,
Hatching plutonium – a fume,
Radioactive cast-off.
Julius Caesar grits teeth,
Ashens at Windscale's pockmarks
On a thickset graphite shell.
Blue-bag flames peck
At a moody critical mass.
Blood-Stained Pillow
Anne Boleyn disentangles prompts
On the Washeteria's speech bubbles.
Self-run gearing is eco-affirmative.
Her duvet and pillows outline jauntiness
Quickened by a hyperallergic gargle,
Phosphate deficient.
The dizzy-bouquet whiff
Spins and hour into memory.
Lour In Popping Eyes
Dressed-to-the-nines rose-fresh theatre.
Jedward cradle themselves
In a pomp-splash box.
The snorty edge flurries this raised curtain.
'Rites Of Spring,' blurts gabbley lips.
The twins dislocate nerves.
Bob-up canes, set-against fans in an uproar.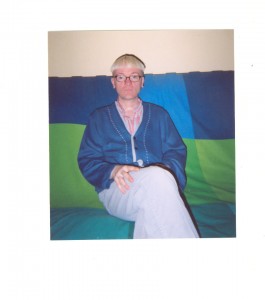 Some bio details…
In 1998 I won a Northern Arts writers award. In July 200 I read at Waterstones bookshop to promote the anthology 'Titles Are Bitches'. Christmas 2001 I debuted at Newcastle's famous Morden Tower doing a reading of my poems. Each year I read for Proudwords lesbian and gay writing festival and I partook in workshops. 2005 saw the publication of my collection LOVEBITES published by Chanticleer Press, 6/1 Jamaica Mews, Edinburgh.
On Saturday 16Th August 2003 I read at the Edinburgh Festival as a Per Verse poet at LGBT Centre, Broughton St.
I also have a BBC web-page www.bbc.co.uk/tyne/gay.2004/05/section_28.shtml and http://www.bbc.co.uk/tyne/videonation/stories/gay_history.shtml (if first site does not work click on SECTION 28 on second site.
Christmas 2001 The Northern Cultural Skills Partnership sponsored me to be mentored by Andy Croft in conjunction with New Writing North. I made a radio programme for Web FM community radio about my writing group. October-November 2005, I entered a poem/visual image into the art exhibition The Art Cafe Project, his piece Post-Mark was shown in Betty's Newcastle. This event was sponsored by Pride On The Tyne. I made a digital film with artists Kate Sweeney and Julie Ballands at a film making workshop called Out Of The Picture which was shown at the festival party for Proudwords, it contains my poem The Old Heave-Ho. I worked on a collaborative art and literature project called How Gay Are Your Genes, facilitated by Lisa Mathews (poet) which exhibited at The Hatton Gallery, Newcastle University, including a film piece by the artist Predrag Pajdic in which I read my poem On Brenkley St. The event was funded by The Policy, Ethics and Life Sciences Research Institute, Bio-science Centre at Newcastle's Centre for Life. I was involved in the Five Arts Cities poetry postcard event which exhibited at The Seven Stories children's literature building. In May I had 2006 a solo art/poetry exhibition at The People's Theatre
The South Bank Centre in London recorded my poem "The Holiday I Never Had"; I can be heard reading it on www.poetrymagazines.org.uk/magazine/record.asp?id=18456
REVIEWS: I have written poetry reviews for Poetry Scotland and Jacket Magazine and in August 2007 I made a film called 'A Blank Screen, 60 seconds, 1 shot' for Queerbeats Festival at The Star & Shadow Cinema Newcastle, reviewing a poem…see www.myspace.com/queerbeatsfestival On September 4 2010, I read at the Callander Poetry Weekend hosted by Poetry Scotland. I have also written Art Criticism for Peel and Combustus Magazines. I was involved in The Creative Engagement In Research Programme Research Constellation exhibitions of writing and photography which showed in London (march 13 2012) and Edinburgh (July 4 2013) see http://www.researchconstellation.co.uk/ . I co-edit the poetry magazine Interpoetry
www.facebook.com/PoetryLifeTimes
www.facebook.com/Artvilla.com
robin@artvilla.com
editor@artvilla.com
goodreads.com/author/show/Robin Ouzman Hislop
http://www.aquillrelle.com/authorrobin.htm
http://www.amazon.com. All the Babble of the Souk. Robin Ouzman Hislop
www.lulu.com. All the Babble of the Souk. Robin Ouzman Hislop
https://www.amazon.com/author/robinouzmanhislop
http://www.innerchildpress.com/robin-ouzman-hislop.All the Babble of the Souk