Norway is cold to any sentient tramp
or a chorus of hyenas that yawn
and sneeze around a chicken house
stinking of ghosts and rotten
pomegranates. Its windmills are beautiful
in the pastures, but I need a zippered
leather coat to cover the skylark tattooed
on my chest. I couldn't invent this:
I have poor posture from shaking,
my body needs a sunlamp. No, I retract
the above lies that aren't worth two euros.
I'd fly pennants and banners
for the frigid land. Or release balloons
into the happy sky. I love the fish,
blown glass, and police who don't
surround or harass me. Plenty of shade
to sip chardonnay by, and next summer,
when warmer weather tricks this cancer
to die, I'll toot my own horn again
and teach Tolstoy to the children.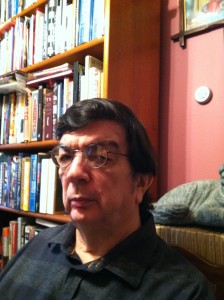 David Spicer has had poems in Yellow Mama, Reed Magazine, Slim Volume, The Laughing Dog, Jersey Devil Press, The American Poetry Review, New Verse News, Ploughshares, Bad Acid Laboratories, Inc., Dead Snakes, and in A Galaxy of Starfish: An Anthology of Modern Surrealism (Salo Press, 2016). He has been nominated for a Pushcart, is the author of one full-length collection of poems and four chapbooks, and is the former editor of Raccoon, Outlaw, and Ion Books. He lives in Memphis, Tennessee. For futher views of his works see Motherbird.com & Artvilla.com


www.facebook.com/PoetryLifeTimes
www.facebook.com/Artvilla.com
[email protected]
[email protected]


goodreads.com/author/show/Robin Ouzman Hislop
http://www.aquillrelle.com/authorrobin.htm
http://www.amazon.com. All the Babble of the Souk. Robin Ouzman Hislop
www.lulu.com. All the Babble of the Souk. Robin Ouzman Hislop
https://www.amazon.com/author/robinouzmanhislop
http://www.innerchildpress.com/robin-ouzman-hislop.All the Babble of the Souk