Every morning

dank scuffling begins

on the edge of our roof

as hungry pigeons

leave their nearby

shrinking shelters

and rush towards

our old Kathmandu house

when my mother calls

them as usual,

chirruping to them

in a high melodic note,

"Come, come, come pigeons."

Then they lean over

the solar panel's rusty edge

and look at us

with dark shiny eyes

and wait for the

sudden appearance

of the manna.

"Breakfast?" we ask.

They lower their head rapidly,

spring off to the floor

and start picking the grains.

Finished, they fly off.

It's goodbye till we

wake up the next morning

to recreate the same scene

once again.

Leaning against the wall,

I take a sip

of lukewarm herbal water,

and exchange glances

with the colorful birds

flying low above me

in the gorgeous morning sky.

Their habitats are waning

in the face of global warming

but I can no longer pretend

that things won't  be fine

 for them, for us. 

This generation

is growing up

with a lot more

reverence for nature

and I believe

in the extraordinary power

of human connections.

Suddenly,

the wind howls.

Fallen pigeon feathers

and chocolate wrappers

litter the terrace floor

and a squirrel swirls past my legs.

Kathmandu is still sleeping.

It's not Saturday

but the city seems eerily silent.

Around me, the painted deities

sneer and snarl.

High above,

a flock of pigeons

coronet the sky.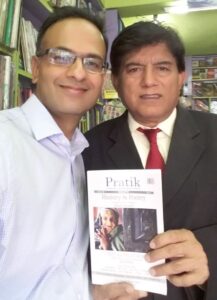 Bhuwan Thapaliya is a poet writing in English from Kathmandu, Nepal. He works as an economist and is the author of four poetry collections. His poems have been published in Wordcity Literary Journal, Pendemics Literary Journal, Poetry Life and Times, Trouvaille Review, Life in Quarantine: Witnessing Global Pandemic Initiative(Witnessing Global Pandemic is an initiative sponsored by the Poetic Media Lab and the Center for Spatial and Textual Analysis at Stanford University), International Human Rights Art Festival, Poetry and Covid: A Project funded by the UK Arts and Humanities Research Council, University of Plymouth, and Nottingham Trent University, Pandemic Magazine, The Poet, Valient Scribe, Strong Verse, Jerry Jazz Musician, VOICES ( Education Project), Longfellow Literary Project, Poets Against the War among many others.