Four walls,
a TV,
and a bed
is all a sulky
loner needs
for a sojourn
in the sticks.

Eat Bugles off
your fingers,
lick the crumbs
under the covers.

The second storey
window has a view
of the frenetic energy
beaming from the pool,
corporeal flow.

*

A stroll around town
is a chair
being forced down
your throat
with a rake.

*

Back in your room,
the blinds are closed,
television on.

Catch the late-night
feature about sea
urchins in space.

Actors in outlandish
tin foil costumes pinwheel
like toads clenched
to twine saucers.

*

The cider is good,
but the days drag
by when there's no one
to drink with.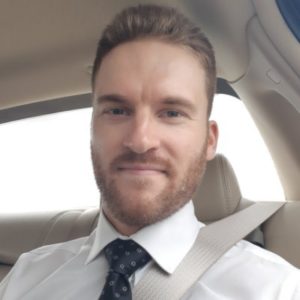 Author Bio

Samuel Strathman is a poet, author, educator, and co-editor at Cypress: A Poetry Journal. Some of his poems have appeared or are forthcoming in Rejection Letters, The Honey Mag, Ice Floe Press, and elsewhere. His debut chapbook, "In Flocks of Three to Five" was published by Anstruther Press (2020). His second chapbook, "The Incubus" will be in print this fall (Roaring Junior Press, 2020).





Robin Ouzman Hislop is Editor of Poetry Life and Times at Artvilla.com ; his publications include

All the Babble of the Souk , Cartoon Molecules, Next Arrivals and Moon Selected Audio Textual Poems, collected poems, as well as translation of Guadalupe Grande´s La llave de niebla, as Key of Mist and the recently published Tesserae , a translation of Carmen Crespo´s Teselas.

You may visit Aquillrelle.com/Author Robin Ouzman Hislop about author. See Robin performing his work Performance (University of Leeds)