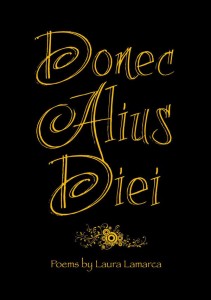 When once would I conform to such a state
as to confine such audible mistakes
than whence I came admiring this fine art,
no more a whim–thy splendor to impart.
And though thou preach in education's name
do I become less potent or more sane,
to pander to thy utmost vantage point…
nay…I attempt thy scorn to then disjoint.
For credibility has drawn an air–
a feel as fine as grandeur, such a flare!
Shalt thou surpass this passion for defeat
and shall I sew thy weakness to up-seat.
Do not, say I, feign worth in tower's gait
till thou hast chewed the bile that doth thee sate.


***
About The Author
Laura Lamarca is a 39 year old widowed mother of three teenagers originally hailing from the northern county of Lancashire, but now residing on the South coast of England.


Laura is a professional poet and author of three books of poetry and one Chapbook to date, the latest book was released in December 2011 by GJBPublishing.co.uk titled "Donec Alius Diei".






Laura is also the creator of 18 globally recognized forms of formal poetry, these include "The Licentia Rhyme Form", the "La`Tuin" and the L`Arora" forms. She has also recently created 3 more forms…these are the "Jordec Verse", "La Dan Form" and a collaborated and highly technical form with Poet Jem Farmer titled the "LaJemme".



In her spare time, she teaches the art of expression through the written word to pupils all over the world at no cost to them. She also writes hugely for charity and actively supports charities that raise awareness for cancer, third world plight, dolphins and gun and knife crime.
 
She has the belief that there is a brighter day for all, given the compassion and commitment of others…one voice can raise a thousand voices, a thousand voices can raise the whole world.  She is of the belief that ultimate truth does not exist, that everything is personal perspective and probable outcome.
***
editor@artvilla.com
robin@artvilla.com
www.facebook.com/PoetryLifeTimes
www.facebook.com/Artvilla.com