We are never quite done
 with the gloomy castle
 it shadows all our domestic hours
  from birth through the sapling years
 and on.
 It stands on a steep embankment
 surrounded by a thick, dark forest
 and from its battlements
      unlucky souls observe in the distance
 a glass-green ocean
 a starry firmament.
 Below, in the icy castle grounds,
      huddle mournful souls
 freezing and forgotten by all
      but their closest kin—
 a melancholy place
 but nothing eternal to it.
 The sun that rises elsewhere
       will not penetrate this structure
 hidden as it is, under northern mists,
 wizard spells and optical illusions
 of light and dark.
Though the city is your new mistress
        you may encounter this castle
 in dreams
 animated by an almost human moon,
 the eerie chatter of small
 flitting things—not exactly bats—
 and damp torches burning tentatively
 on, towering ramparts.
 And you may encounter stone griffins
  or other frozen phantasmagoria ,
  and ponder why it is
 that you always approach Her
  in the dark
 with frost stinging your skin
 and the air painful to breathe.
 And there's never any wind
 it's always so still and ponderous—
 like a painting:
 an ocean of souls (anticipating fire)
 ominous clouds (dull and lifeless)
 and
 the muddled heavens
 so vast, so domed, so utterly silent.
***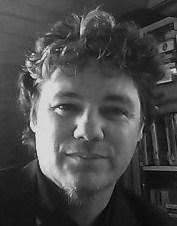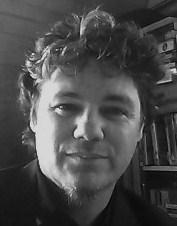 Ian Irvine is an Australian-based poet/lyricist, fiction writer and non-fiction writer. His work has featured in many Australian and international publications, including Fire (UK) 'Anthology of 20th Century and Contemporary Poets,' (2008) which contained the work of poets from over 60 nations.His work has also appeared in a number of Australian national poetry anthologies, and he is the author of three books and co-editor of many more (including Scintillae 2012, an anthology of work by over 50 Victorian and international writers and poets). He currently teaches writing and literature at Bendigo TAFE and Victoria University (Melbourne) and lives with fellow writer Sue King-Smith and their children on a 5 acre block near Bendigo, Australia.

Links related to his work are as follows:
robin@artvilla.com
www.facebook.com/PoetryLifeTimes