Ununseptium
Janet Kuypers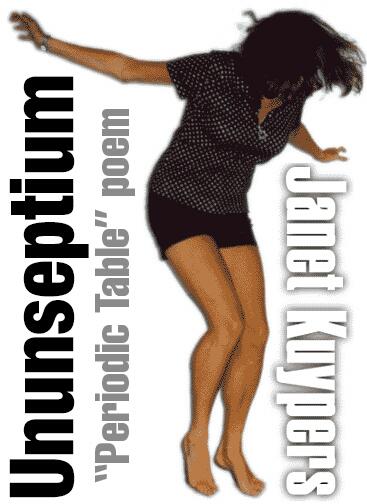 from the " Periodic Table of Poetry" series (#117, eka-astatine, dvi-iodine, Uus)
with poetry from "Tired of Trying," from the "Depression – the singles" collection
I knew you were out there for years.
But to get you, after toiling in my Dubna lab
we had to ask the Americans
over in Tennessee
if they could send us
some of their wares,
but years passed before I could get
22 milligrams of Berkelium
so I could work in Moscow Oblast
to get you in my sights.
All that time, all I could do
was research, hope.
I'd work, I'd go
and I'd stand on my own,
and I'd leave on my own,*
wondering how long it would take
before I'd see what you might be like.
You see, I used to work at a pharmacy
at Nevsky Prospekt in Leningrad,
that's when I fell in love
with learning about chemicals,
and that is when I wanted
to discover something truly new.
That's when you came into the picture.
Because after years of work,
I still waited for those damn Americans
to come through for us.
I mean, we're scientists,
we're supposed to be on the same side,
this is all about discovery.
And the thing is,
the higher we get in our research,
the more stable we got
on our little island of knowledge.
But this waiting was exasperating —
I got to the point
that I got tired of trying to tell myself
that I had something to discover,
something to share,
that someone wanted to hear.**
Eventually, they had to ship
what I needed to get you
in five packages wrapped in lead;
it flew back and forth
across the Atlantic five times
and was rejected twice by customs.
But once I got what I needed —
oh, you were just about
the heaviest thing I could imagine.
Then again, you've had me
spinning around over the years for you,
so it wouldn't surprise me
if you would do the same for me.
So I'd work while listening to the radio,
and active actions from you
would come to me in short bursts.
But I'll take whatever I can get
in my little corner of the world.
This is research. And this is what I do
to learn what I can from you.
* "How Soon is Now," the Smiths, 1984
** "Tired of Life", 2012