Francium
by Janet Kuypers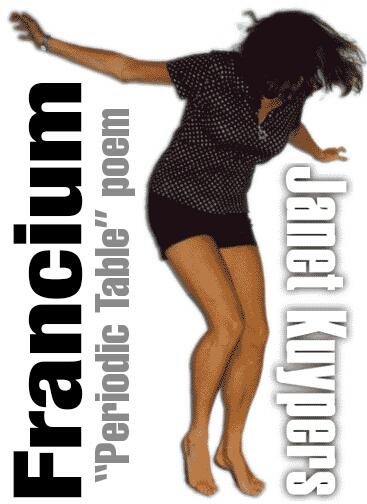 of Scars Publications
from the "Periodic Table of Poetry" series (#087, Fr)
Thinking of you,
I'm reminded
of someone taking his mother's guns
and killing her in an elementary school,
then taking out twenty children,
then five more adults,
before taking his own life.
Remembering your destructive ways
reminds me of going to a movie on opening night
before someone walks in,
cloaked in dark clothes
setting off smoke bombs
before killing anyone he could.
Your metallic personality,
you and your radioactive ways,
you decayed anything you touched.
So you wonder why I correlate you
to any and all destruction,
the way you'd be the instrument of death
by slamming so much fuel,
so much metal, so much life
into the tallest building you could find,
killing anything that crossed your path.
And yeah, I'd correlate you
with the government claiming to play nice
while you helped over eighty faithful followers
disintegrate in a fiery cataclysm.
I've seen what you can do.
I can't help but make the connections.
In such a short burst of time,
you've killed seven
in a Sikh temple.
I've never seen you for long enough
to think I can know what you
might be like in bulk.
As I've said,
I've only seen you in these short bursts.
But oh,
what you've done
in those
short
bursts.
I think it's funny
how you unintentionally
chose Hitler's birthday
to kill thirteen teens,
injure over twenty more,
on an otherwise average school day.
I know, I know you're rare,
but when I see you,
the world sees you,
and we can't forget.
I know it's such a little amount of you
that exists at any time
throughout the entirety of the Earth,
and I know others
have tried to create you synthetically,
to try to learn from you,
but those amounts have still been too small
to make any difference.
It's sad, that this is the way
you normally are —
your instability make me think
that you just can't be real—
and I know that your rampages
usually last no more than twenty,
maybe as long as twenty-two minutes.
I'm just afraid
that you are becoming
more and more common in life.
After all of these years,
you have always been rare,
but your repeated appearances
in our lives scare me.
I know that with you, everything falls apart
so suddenly, so quickly so violently.
How much longer
will we cross our fingers,
while we anticipate
our next chance encounter?