I woke up
In the complete darkness
Reaching out for you
Like I always do
But this time
You were there.
I touched your shoulder
And you grunted.
I don't know if the grunt
Was anger or assent
But you were there,
Beside me,
Asleep.
Where you belong.
I kissed your shoulder,
You sighed,
Then began to breathe deeply
Again.
I fell asleep
Completely
Satisfied.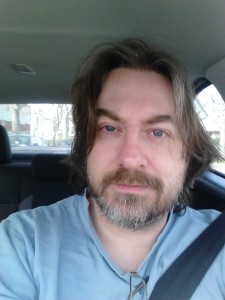 John Tustin graduated from nowhere, edits nothing and has no awards. His poetry is forthcoming in Poetry Pacific, Leannan, Your One Phone Call, Bare Back Magazine and Newtown Literary Review. http://www.fritzware.com/johntustinpoetry/ is a link to his poetry online


robin@artvilla.com
PoetryLifeTimes
Poetry Life & Times
editor@artvilla.com
www.artvilla.com
Artvilla.com