Lost in the grey loneliness.

Cognition intruder – rustling from the mind.
Unclear thread, passionate, cruel, is awaken.
The fruit is not conspiracy.
The lunatic, genius of silence!
Get closer to the unspoken.
The analysis of reason- slavery!
During walking, visible shame!
Exciting autonomy,
Opened door, the windows,

Draft!
In the mist the stairways
Leading to heaven.
Paralyzed conscience,
Portable mirror.
In the plural against the fluency,
Conducting, behavior,

And admit the guilt.
The line connecting,
The road to the spacecraft.
We walk on by in dishonor.
Bronze woman,
Brass man!!!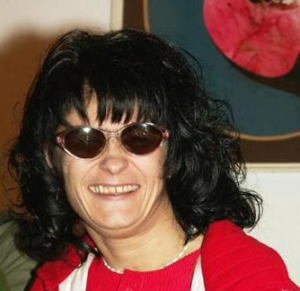 Tatjana Debeljački, born on 23.04.1967 in Užice. Writes poetry, short stories, stories and haiku. Member of Association of Writers of Serbia – UKS since 2004 and Haiku Society of Serbia – HDS Serbia, HUSCG – Montenegro and HDPR, Croatia. A member of Writers' Association Poeta, Belgrade since 2008, member of Croatian Writers' Association- HKD Croatia since 2009 and a member of Poetry Society 'Antun Ivanošić' Osijek since 2011, and a member of "World Haiku Association" – 2011, Japan. Union of Yugoslav Writers in Homeland and Immigration – Belgrade, Literary Club Yesenin Belgrade. Member of Writers' Club "Miroslav – Mika Antić" – Inđija 2013, Writers' Association "Branko Miljković" – Niš 2014, and a member of Japan Universal Poets Association (JUNPA). 2013. "Poetic Bridge: AMA-HASHI (天橋) Up to now, she has published four collections of poetry: "A HOUSE MADE OF GLASS ", published by ART – Užice in 1996; collection of poems "YOURS", published by Narodna knjiga Belgrade in 2003; collection of haiku poetry "VOLCANO", published by Lotos from Valjevo in 2004. A CD book "A HOUSE MADE OF GLASS" published by ART in 2005, bilingual SR-EN with music, AH-EH-IH-OH-UH, published by Poeta, Belgrade in 2008."HIŠA IZ STEKLA" was translated into Slovenian and published by Banatski kulturni centar – Malo Miloševo, in 2013 and also into English, "A House Made of Glass" published by »Hammer & Anvil Books» – American, in2013. Her poetry and haiku have been translated into several languages.





www.facebook.com/PoetryLifeTimes
www.facebook.com/Artvilla.com
robin@artvilla.com
editor@artvilla.com


http://www.aquillrelle.com/authorrobin.htm
http://www.amazon.com. All the Babble of the Souk. Robin Ouzman Hislop
www.lulu.com. All the Babble of the Souk. Robin Ouzman Hislop
https://www.amazon.com/author/robinouzmanhislop
http://www.innerchildpress.com/robin-ouzman-hislop.All the Babble of the Souk