1]

The Lovely Lady in the Ridiculous Clothes

In a sea of meaningless stuff, that honesty
Fires up the jaded imagination,
Enlivens losing life with lively sensation,
And calls for music, dancing harmony.
So wear that hat, a dashing pronouncement,
Those painted shoes, eye-grabbing things,
And whatever else inspiration brings
To hear wisdom's ultimate announcement.
The hat, the crazy shoes, your laughing smile,
Are flowers sprung from nowhere, although
Sweet hope requires that they arrive so,
And the light has come, now, to stay awhile.
The music does more than speak: it commands,
And souls step forth and boldly now clap hands.

2]

Hot Date for The Fiddlers' Convention

Brought against you, then,
An arsenal of betrayals that begin
A catalog of unexpected depletions,
Beginnings to begin once again,
Chaos of incompletions.

So chalk this up to the record then,
Remembering themes are just themes,
Not formulas, mathematic dreams,
Just stuff just good for slogans to rant,
Useless epitaphs for grackles to chant.

Tune the instrument, tune in the station
Playing the spirit of inspiration.
Let the dance continue hard and fast
Or deep and slow, but let it play on.
Let it go. Leave it playing on at last.

3]

Behind the Old Church

Heavy stone slabs
Shadowed with warning
Echo ominously…
The moon keeps burning…

The dead stones emanate
Stupefying cold
Around these graves'
Enigmas untold,

And the ravens look down
With raucous disdain
On stupefied despair,
A frozen hurricane…

Silent bells boom
And clang,
Time's malicious
Boomerang.

Step right up,
Sentimental slave;
Pour your liquor
All over his grave.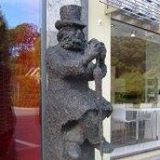 R. W. Haynes, Professor of English at Texas A&M International University, writes various things in prose and in poetic form. His academic specialty is 16th-century England, but much of his work lately has been on the playwright/screenwriter Horton Foote. His recent poetry collections are Laredo Light and Let the Whales Escape published summer 2019 ( for further info see under Categories at this site). He recently wrote a play titled Never Claim a Kill, and he hopes to complete his novel The Songs of Billy Bonstead before Laredo cools off again. Another project in progress is an academic work currently titled The Struggling Spirit in the Plays and Screenplays of Horton Foote. In 2016 he was awarded the SCMLA poetry Prize ($500) at the Dallas meeting of the South Central Modern Language Association




Robin Ouzman Hislop is Editor of Poetry Life and Times at Artvilla.com ; his publications include

All the Babble of the Souk , Cartoon Molecules, Next Arrivals and Moon Selected Audio Textual Poems, collected poems, as well as translation of Guadalupe Grande´s La llave de niebla, as Key of Mist and the recently published Tesserae , a translation of Carmen Crespo´s Teselas.

You may visit Aquillrelle.com/Author Robin Ouzman Hislop about author. See Robin performing his work Performance (University of Leeds)