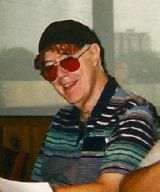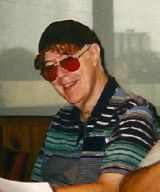 Jim Dunlap Author

***
Like sparks trailing
 from a million, billion fireflies,
 a single thought
 limns a trillion suns.
 From the first small bonfire
 flickering across four million years,
 whose light imprints itself
 upon the canvas backdrop
 of a feckless, barely cohesive Infinity,
 the matter of man, no more than
 the past, transmogrifies the future —
 denies the import of "real" or "black"
 or any other type of matter.
 Yet existing, it defines the local locus
 Of now and when and how and then.
 The freezing cold of space
 burns like energy
 backfiring on itself.
 Somewhere,
 celestial lightshows
 flare across parsecs
 of near emptiness.
 Liquid oxygen fuels
 the laboring lungs
 of multitudes,
 singing out the music of the spheres,
 maestros of a trillion symphonies,
 platelets in the lifeblood of the Universe.
 Like a Coriolis wave that imprints itself
 upon a formless sandstorm,
 a thought burns itself
 into the very fabric
 of Eternity,
 opens like
 a budding flower,
 and initiates
 its own realities.
***
Jim Dunlap's poetry has been published extensively in print and online in the United States, England, France, India, Australia, Switzerland and New Zealand. His work has appeared in over 90 publications, including Potpourri, Candelabrum, Mobius, Poems Niedernasse, and the Paris/Atlantic. He was the co-editor of Sonnetto Poesia and is currently a Content Admin for Poetry Life & Times. www.facebook.com/PoetryLifeTimes He is also the chief proofreader for the On Viewless Wings Anthologies, published out of Queensland, Australia. In the past, he was a resident poet on Poetry Life & Times and the newsletter editor for seven years with the Des Moines Area Writers' Network.