'That's why I write'
My ink flies far when I Orville write..
[That's why I write]
It's ideal to open up and let the brains breathe right..
[That's why I write]
Oprah talks,  Brad Pitt acts, I write!
Weird would the world be without writers..
Like Martin's assassination story without snipers.
What? No Bible revelations?
No Readers' digests?
No Quran quotes?
No Daily graphics?
No music magazines?
not even Kama sutra notes?
[That's why I write]
I don't tittle-tattle, I'd rather scribble-scrabble
Gossips are short-lived so let my pencil prattle
Poetry paints the state of affairs, affairs of the state
So why keep a glutton crayon by a starving slate?
[That's why I write]
Born was I the same year noble Soyinka took Nobel award
My manger must have been brushed by his white hair wand..
Toddling, I watched Efua Sutherland weave 'Anansesem' with her palm,
Pondering why Kwaku Ananse hid a calabash of the whole world wisdom.
[That's why I write]
But trifling is the written when never read..
Could we have the Passover without the bread?
So read Shakespeare's or Blakes's! Atukwei's Ama's
If you'ld read none, inspire…
…………………………………………………….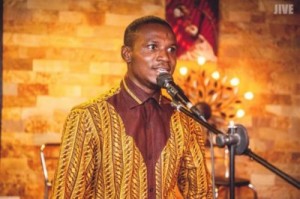 Kwame's love for wordplay has earned him online publications, awards from the Scrabble Association of Ghana and a couple of nicknames including Write. He is a nominee for the International Best Amateur Poet by World Poetry Organisation, a biochemist working as a health & safety consultant who believes that freelance writing, spoken word and rap are not only rich arts but tools for educating and inspiring people. Kwame Write founded Inkfluent which produced Vocal Portraits; a spoken word compilation that brought together 15 artists from 3 continents: Africa, America and Europe. When he's not with the pen, he's most likely playing beach soccer or making new friends over a bowl of fufu and palm wine. You can visit him at http://kwamewrite.blogspot.com/ and https://soundcloud.com/kwame-write-1
LINKS:
Twitter: @kwamewrite
Facebook: https://www.facebook.com/aidookwamecharles
***
[email protected]
[email protected]
www.facebook.com/PoetryLifeTimes
www.facebook.com/Artvilla.com