My heart
Is as
The old
West pier
In Brighton.
It has been stripped down,
To bear minimum,
The structure crumbles,
Winds, Rains and Tides,
Have wrecked
Once noble
Steel girders.
The Penny arcades,
Little lights and joy rides,
Have passed into history.
Only the starlings, black clouds,
At sunset,
Visit.
My heart
Is as
The old
West Pier
In Brighton.
Shrouded in darkness,
Awaiting collapse,
It is old enough,
To remember
The little boy,
Who once played,
When the Pier
Lived,
And both made dreams,
That are now,
The Property
Of Ghosts…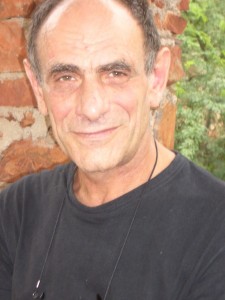 Robin Marchesi, born in 1951, began writing in his teens, much to the consternation of his mother, the sister of Eric Hobsbawm, the historian.
In 1992 Cosmic Books published his first book entitled  "A B C Quest".
In 1996 March Hare Press published "Kyoto Garden" and in 1999 "My Heart is As…"
ClockTowerBooks published his Poetic Novella, "A Small Journal of Heroin Addiction", digitally, in 2000.
Charta Books published his latest work entitled "Poet of the Building Site", about his time working with Barry Flanagan the Sculptor of Hares, in association with the Irish Museum of Modern Art.
He is presently working on an upcoming novel entitled "A Story Made of Stone."

 http://www.amazon.com/A-Small-Journal-Heroin-Addiction/product-reviews/0743300521

http://www.illywords.com/2011/09/down-the-rabbit-hole-a-glimpse-into-the-wonderland-of-barry-flanagan/



editor@artvilla.com
robin@artvilla.com
www.facebook.com/PoetryLifeTimes