MARGUERITE

(by Rubén Darío; translated by William Ruleman)

Remember how you longed to be a Marguerite
Gautier? Burned on my brain, the strangeness of your face
On that first date when we went out to eat:
Light-hearted night with none thereafter to take its place.

Your lips, smeared scarlet with a crude lipstick replete
With purple, sipped champagne with exquisite grace
From finest crystal while you plucked a . . . yes, marguerite:
"He loves me, he loves me not . . ." You knew quite well the case.

And then, hysterical flower, how you laughed and cried:
Those laughs, your scents, your moans—ah, they were all for me!
Your kisses and your tears seemed on my mouth to stay.

And one sad afternoon when days were sweet, you died.
To see if you loved me, Death, in his jealousy,
Plucked you, like a marguerite of love, away!

MARGARITA

(Rubén Darío)

¿Recuerdas que querías ser una Margarita
Gautier? Fijo en mi mente tu extraño rostro está,
cuando cenamos juntos, en la primera cita,
en una noche alegre que nunca volverá.

Tus labios escarlatas de púrpura maldita
sorbían el champaña del fino baccarat;
tus dedos deshojaban la blanca margarita,
«Sí… no… sí… no…» ¡y sabías que te adoraba ya!

Después, ¡oh flor de Histeria! llorabas y reías;
tus besos y tus lágrimas tuve en mi boca yo;
tus risas, tus fragancias, tus quejas, eran mías.

Y en una tarde triste de los más dulces días,
la Muerte, la celosa, por ver si me querías,
¡como a una margarita de amor, te deshojó!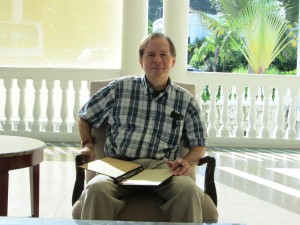 BIO: William Ruleman's poems and translations have appeared in many journals, including AALitra Review, Ezra, The Galway Review, The New English Review, The Pennsylvania Review, The Recusant, Rubies in the Darkness, The Sonnet Scroll, and Trinacria. His books include two collections of his own poems (A Palpable Presence and Sacred and Profane Loves, both from Feather Books), as well as translations of poems from Rilke's Neue Gedichte (WillHall Books, 2003), of Stefan Zweig's fiction in Vienna Spring: Early Novellas and Stories (Ariadne Press, 2010), of prose and poems by Zweig in A Girl and the Weather (Cedar Springs Books, 2014), and of poems by the German Romantics in Verse for the Journey: Poems on the Wandering Life (also from Cedar Springs Books). He is Professor of English at Tennessee Wesleyan College.LINK to William Ruleman's Blog: http://williamruleman.tumblr.com/


robin@artvilla.com
PoetryLifeTimes
Poetry Life & Times
editor@artvilla.com
www.artvilla.com
Artvilla.com