Purple Haze purports to describe "nondescript days" but that's just a poetic haze that subtly brings the reader to this poetry's real clarity, which is its ability to pose questions. These poems situate the "I/You" of the lyric's spoken voice in a passionate, sometimes erotic, interrogation of imagination and feeling that is looking for answers. The echo is palpable while Candice James sings "'Scuze me" while I write these poems.
~ Fred Wah, Canadian Parliamentary Poet Laureate 2011-2013
Appointed Officer of The Order of Canada 2013. Editor's Note. Press Picture to Enlarge Photographic Text.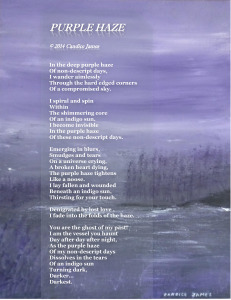 Through the deep purple haze
Of non-descript days
I wander aimlessly
Through the hard edged corners
Of a compromised sky.

I spiral and spin
Within
The shimmering core
Of an indigo sun.

I become invisible
In the deep purple haze
Of these non-descript days.

Emerging in blurs,
Smudges and tears
On a universe crying,
A broken heart dying,
The purple haze tightens
Like a noose.
I lay fallen and wounded
Beneath an indigo sun.
Thirsting for your touch,
Denigrated by lost love,
I fade into the folds of the haze.

You are the ghost of my past.
I am the vessel you haunt
As the deep purple haze
Of my non-descript days
Dissolves in the tears
Of an indigo sun
Spinning dark,
Darker,
Darkest.

© 2014 Candice James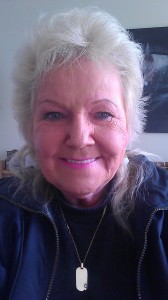 CANDICE JAMES PROFILE

Candice James was born in New Westminster, BC and is a poet, artist, musician, and singer/songwriter, She is currently serving her second three year term as Poet Laureate of the City of New Westminster.

CANDICE IS ALSO
President of Royal City Literary Arts Society
Advisory Board Member Muse International (India)
Past President of the Federation of BC Writers

Author of 8 poetry books:
"A Split In The Water";
"Inner Heart – a journey";
"Bridges and Clouds";
"Midnight Embers – a Book of Sonnets"
"Shorelines" – a book of villanelles"
"Ekphrasticism – Painted Words"
"Purple Haze"
"A Silence of Echoes"

Awards Received
Writers International Network "Distinguished Poet 2013"
Pentasi B – Phillippines "Woman of Prestige 2013"
Honorary Professor International Academy of Arts (Greece)

Keynote speaker/panelist at
"Word On The Street" Vancouver, BC
"Black Dot Roots Cultural Collective" Vancouver, BC
"Write On The Beach" White Rock, BC
"Writers' Etc" Los Angeles, CA


editor@artvilla.com
robin@artvilla.com

www.facebook.com/PoetryLifeTimes
www.facebook.com/Artvilla.com