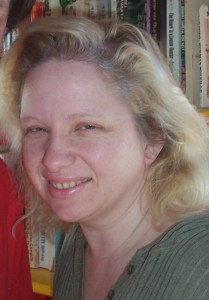 Light pours in through a thin slit of a window
blood red sunset illuminates silver
bells, golden chalices, the empty
half-orb of a sterile baptismal font, black robes
casually tossed over the back of a chair,
a pair of wool slippers half-hidden by folds of cloth.
Faces of concrete angels strain from the walls, echoed
in smooth porcelain, glistening oil on cracked canvas.
Worn Persian rug covers hard
stone, fibers holding still the ancient trace
of sweat from hands straining to hold the threads
in place on a room-sized loom, invisibly
imprinted by knees crawling after dropped things
wanted things, lost things. Tiny pile of mouse droppings
in the shadow of a lost corner, they want things, too.


Holly Day has taught writing classes at the Loft Literary Center in Minneapolis , Minnesota , since 2000. Her poetry has recently appeared in Tampa Review, SLAB, and Gargoyle, and her published books include Walking Twin Cities, Music Theory for Dummies, and Ugly Girl.



Robin Ouzman Hislop is Editor of Poetry Life and Times his publications include All the Babble of the Souk and Cartoon Molecules collected poems and Key of Mist the recently published Tesserae translations from Spanish poets Guadalupe Grande and Carmen Crespo  visit Aquillrelle.com/Author Robin Ouzman Hislop about author.  See Robin performing his work Performance (Leeds University) .