The veil is thin perhaps unreal, somewhat untrue,
distance it is, in faint tone, he faces the apparition,
a step and she is not nearer, a step and she seems… gone…
He may despair as a hand reaches out aimlessly.

Into the lightness of the night, tending the darkness of a morn',
undefined as others, she sings of assured forms;
he can not know for certain in the ruins of the fortress,
ghost of the lady of middle times or mistress of his soul.

She may sit on a cornerstone, birther of life eternal,
disappear into the dungeon wall, or hold in her hand
the statue of a powerful lord almighty, in her feebleness
yet she desires, she wants, she yearns for a life hers.

Take courage young squire, the mist is traitorous,
when fearing the treasure that lies beyond the image,
she is, she exists for the one who braves, unknown,
reward awesome, you will live in paradise.

Misty, undefined, unreal to the outsider,
yet she is, no doubt, remains of her existence;
have faith, believe, as you walk toward the apparition,
the embrace tightens; she will crush your heart into hers so.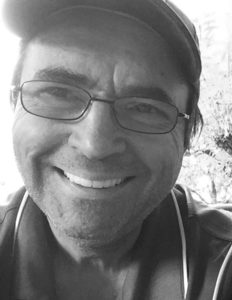 Fabrice B. Poussin is advisor for The Chimes, the Shorter University award winning poetry and arts publication. His writing and photography have been published in print, including Kestrel, Symposium, La Pensee Universelle, Paris, and other art and literature magazines in the United States and abroad. He teaches French and English at Shorter University. Author of novels and poetry, his work has appeared in many other magazines. His photography has been published in The Front Porch Review, the San Pedro River Review as well as other publications.







Robin Ouzman Hislop is Editor of Poetry Life and Times ; his publications include

All the Babble of the Souk , Cartoon Molecules and Next Arrivals, collected poems, as well as translation of Guadalupe Grande´s La llave de niebla, as Key of Mist and the recently published Tesserae , a translation of Carmen Crespo´s Teselas.

You may visit Aquillrelle.com/Author Robin Ouzman Hislop about author. See Robin performing his work Performance (University of Leeds)