The jaguar's a deity
running away from those who believe in him.

He blends in with the mottled light
that falls on rocks,
turns to breath passing through long grass,
and guides himself by memory

across territory he knew
when he moved in a different body

centuries before
it was settled and mined and divided.
He is so bright now
as he descends from a ridge

the land is the shadow he casts.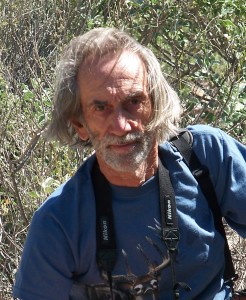 David Chorlton was born in Austria, grew up in Manchester, England, and lived for several years in Vienna before moving to Phoenix in 1978. Arizona's landscapes and wildlife have become increasingly important to him and a significant part of his poetry. Meanwhile, he retains an appetite for reading Eugenio Montale, W. S. Merwin, Tomas Tranströmer and many other, often less celebrated, poets.



www.facebook.com/PoetryLifeTimes
www.facebook.com/Artvilla.com
[email protected]
[email protected]


goodreads.com/author/show/Robin Ouzman Hislop
http://www.aquillrelle.com/authorrobin.htm
http://www.amazon.com. All the Babble of the Souk. Robin Ouzman Hislop
www.lulu.com. All the Babble of the Souk. Robin Ouzman Hislop
https://www.amazon.com/author/robinouzmanhislop
http://www.innerchildpress.com/robin-ouzman-hislop.All the Babble of the Souk