Dear Robin,

I hope you're well and enjoying springtime. We have old friends here in Arizona, one of whom is a well known sculptor whose work is in several public locations. He is John Henry Waddell, now in his nineties. He has recently finished a large scale work, Rising, which we got see on a recent visit. I wrote this poem about Rising, and think it works best with the picture of the sculpture, so I thought of your format. The figures are in relief and in an ideal setting would be set on the side of a tall building.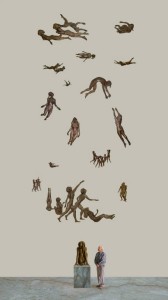 So many windy spirits here
leaving their routines behind
at the kitchen stove, the desk,
the production line at which
they work a living from monotony
and after years with gravity in charge
they suddenly believe in birds
more than in following instructions.
The first ones up

reach for those who follow,
while some look around
from above the traffic and the building sites
and wonder why it took so long
for this to happen. As it tilts away
the ground now seems
unlikely as a base
of operations, marked as it is
with boundaries and borders
and pocked with the craters
from conflicts that continue

without ever having begun.
It's like forgetting what happened
today, this release, and remembering
all the days before it
back through time. It's like
swimming out of water,

like turning into music.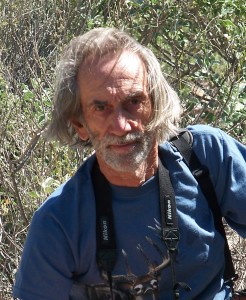 David Chorlton is a transplanted European, who has lived in Phoenix since 1978. His poems have appeared in many publications on- and off-line, and reflect his affection for the natural world, as well as occasional bewilderment at aspects of human behavior. His most recent book, A Field Guide to Fire, was his contribution to the Fires of Change exhibition shown in Flagstaff and Tucson in Arizona.



www.facebook.com/PoetryLifeTimes
www.facebook.com/Artvilla.com
[email protected]
[email protected]


goodreads.com/author/show/Robin Ouzman Hislop
http://www.aquillrelle.com/authorrobin.htm
http://www.amazon.com. All the Babble of the Souk. Robin Ouzman Hislop
www.lulu.com. All the Babble of the Souk. Robin Ouzman Hislop
https://www.amazon.com/author/robinouzmanhislop
http://www.innerchildpress.com/robin-ouzman-hislop.All the Babble of the Souk