In the tattered parts of the hand woven fibres
naked poverty of screams
amid roaring drunk waves of wine bottles
whirling in synthesis with partying proverbs
echoes against posthumous walls
to add the colors to a faded terrain
sipping dripping sweats of a dead beat life
which has spent decades to get up from work
to smile at the gone days.
 
Foliage and twigs rejuvenate themselves
with the waters discarded out of the musical chair game
with splashing music dying out
in swimming strokes of fatigued hands.
 
Each day swimming fog blurs smiles
Crawling clouds dance with tears
and changing seasons paint poignant outbursts
yet the little life left in some corner
takes a swing in the estate
where a Rolls-Royce warms up each evening
and Rolexes add motion to stillness.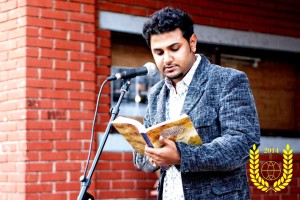 Sonnet Mondal is an Indian poet of the twenty first century generation and has authored eight collections of poetry. He was featured as one of the Famous Five of Bengali youths by India Today magazine in 2010 and has edited & written forewords of several books of Indian poets. His works have appeared in several international literary publications including The Sheepshead Review (University of Wisconsin, Green Bay), The Penguin Review (Youngstown State University), Two Thirds North (Stockholm University), Fox Chase Review, The Stremez (Supported by The Ministry of Culture, Macedonia), California State Poetry Quarterly (California State Poetry Society), Nth Position, Dark Matter Journal(University of Houston-Downtown) and Friction Magazine (New Castle University & New Castle Centre of Literary Arts) to name a few.

He has been Writer of The Month at the Spark Magazine in June 2012, was featured as an achiever in The Herald of India in 2010 & featured in E-view points in Rockfordkingsley ltd. in 2012 and was a featured poet at Tea with George at Desperanto Publication Ltd. (now defunct).

His works have been translated in Macedonian, Italian, Albanian, Urdu, Arabic, Hindi, Telugu and Bengali.

He is the Editor in Chief of The Enchanting Verses Literary Review and Editorial Board member of Multilingual Magazine Levure littéraire based in Paris, France.
Details of his works can be found at www.sonnetmondal.com