Blood red in the snow, a tiny spray of drops
an arc of unjust accusations frozen in time.
This place is more oil than air, echoes
rusted metal teeth snapping taut on a hand full of claw.

This spot, here, where her foot landed, where the trap is sprung.
She is white against the snow, like soft spikes of thin mercury, liquid,
tufts of white fur glowing bright against the brutal iron clasp
her nose quivers black and tiny, sees me, knows who I am.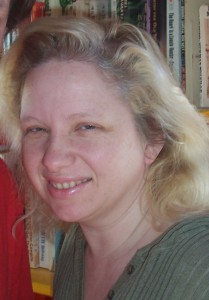 Short bio: Holly Day has taught writing classes at the Loft Literary Center in Minneapolis , Minnesota , since 2000. Her poetry has recently appeared in Oyez Review, SLAB, and Gargoyle, while her recently published books include Music Theory for Dummies (3rd edition), Piano All-in-One for Dummies, The Book Of, and Nordeast Minneapolis: A History.