King Kong vs. the Green Witch

Shuttered in that arched ceiling house with oversized window eyes,
fear frozen as ten foot high Green Witch and King Kong square off
neath crabapple tree beside the scotch heavy station wagon.
Flared feminine nostrils bull out white choking smoke
as accented witch hurls broomstick spears at Brooklyn's hairy ape.
Uncertain who to root for
I cower neath my cottony get,
and pray for peace.

Even now
some nights that five-year-old boy revives
ever cowering neath warm get
as warbled voices of the long dead king and Green Witch,
throw rock centered snowballs
down from sad rooftops of this life.
Amplified through sterile echo chambers,
their cold white straitjackets bind me to safer letters,
as pained hourglass grains drift relentlessly south.
So I wake and puke up vanilla conformity
echoing art house dramas or MGM movie plots,
neutering unknown verses
till they sound like every mediocre show on thin air.
Whispering,
"Picture this... it's easier,"
in hope that peace will come to this mental house divided
if only I write as they want.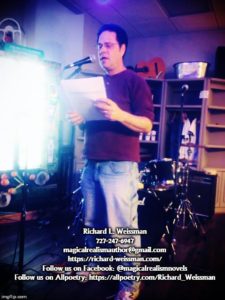 Bio:

Richard L Weissman has written fiction since 1987.
In 2000, his theatrical play, "The Healing" was selected by Abdingdon Theatre for a staged reading Off-Broadway.
Richard is the author of two Wiley Trading titles. His second book, Trade Like a Casino was selected as a Finalist for the 2012 Technical Analyst Book of the Year Award.

In 2016, Mr. Weissman completed his historical novel in the tradition of magical realism, "Generations".

In 2020 his poem, "Mountain Bird and Loquat" was selected as the grand prize winner of the Florida Loquat Literary Festival.

In addition to hosting, "In Our Craft or Sullen Art" – a biweekly poetry radio talk show, Richard participates in live spoken word events throughout the U.S. https://richard-weissman.com/
on Facebook: @magicalrealismnovels








Robin Ouzman Hislop is Editor of Poetry Life and Times at Artvilla.com ; You may visit Aquillrelle.com/Author Robin Ouzman Hislop about author & https://poetrylifeandtimes.com See Robin performing his work Performance (University of Leeds)