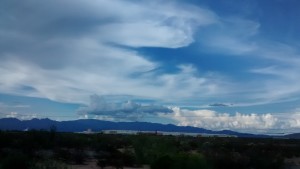 #1
A roadrunner has climbed the concrete slope
from roadside weeds to where it meets
the bridge's horizontal, and he stops
with his beak directed
at the angle in which a patch of sky
illuminates his profile.

#2
The yellow and the white lines meet
straight ahead at perspective's
farthest point, where blue mountains divide
Earth from the storms
about to break in Heaven.

#3
Along the rails that run beside
the interstate, an eastbound freight train
leaves daylight behind it
as clouds churn into the sky
with red lightning inside them.

#4
A nighthawk's wing
above the traffic flow
slides between the day
and a night of endless
taillights.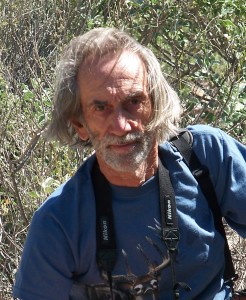 David Chorlton was born in Austria, grew up in Manchester, England, and lived for several years in Vienna before moving to Phoenix in 1978. Arizona's landscapes and wildlife have become increasingly important to him and a significant part of his poetry. His Selected Poems from FutureCycle Press appeared in 2014. The shadow side of Vienna provides the core of The Taste of Fog, a work of fiction published by Rain Mountain Press. And the poem follows
http://www.davidchorlton.mysite.com/


[email protected]
PoetryLifeTimes
Poetry Life & Times