Perhaps grief is a home
with a haughty ceiling and a bolted door
where you feel so comfortable, sometimes,
that you do not hear the steel s edge
slashing the tapestries,
suspended on the scented air:
it is heliotrope blended with brimstone,
seeking to settle in the corners;
only the window stands
between the limit and you.
Arduous walk, in silence you listen to the ancient voices,
firewood for this grief
always starved of you,
as demanding as a newborn child
whom you already love.
The door opens ajar and you close it:
There is nothing to be afraid of.
***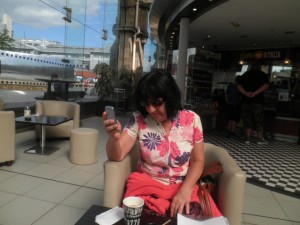 ***
Amparo Arrospide (Argentina) is a Spanish poet and translator. She has published four poetry collections, Mosaicos bajo la hiedra, Alucinación en dos actos y algunos poemas, Pañuelos de usar y tirar and Presencia en el Misterio as well as poems, short stories and articles on literary and film criticism in anthologies and both national and foreign magazines. She has received numerous awards. Together with Robin Ouzman Hislop, she worked as co-editor of Poetry Life and Times, an E-zine.