From eleven thousand feet the shadows
cast by clouds rock
back and forth as they float down
through volcanic light
to the forests where they break
apart between the pines
and disappear into late summer grass.

Windgusts at that altitude
slide from a raptor's wing
and dissolve in thin air
while the view from the treeline
runs sky-wide and frost-bright
to the point where Earth and rain
pale into each other.

A misplaced glance
would slip back a thousand years
to be swallowed by lava
and leave no foothold
on the crater's edge.

Prairies tumble, edge over edge,
while forests tighten their grip
against winter, which begins
its descent from the first
aspen leaf to turn yellow.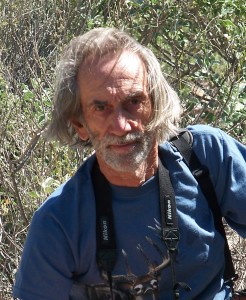 David Chorlton was born in Austria, grew up in Manchester, England, and lived for several years in Vienna before moving to Phoenix in 1978. Arizona's landscapes and wildlife have become increasingly important to him and a significant part of his poetry. His Selected Poems from FutureCycle Press appeared in 2014. The shadow side of Vienna provides the core of The Taste of Fog, a work of fiction published by Rain Mountain Press. http://www.davidchorlton.mysite.com/


[email protected]
PoetryLifeTimes
Poetry Life & Times
www.artvilla.com
Artvilla.com