Earth Puzzle


We think completing the jigsaw 
depicting Earth will complete us, but 
4 AM we float in half-consciousness,
hoping to realign our orbit, still aimed 
into vastness, a jumbled mess on the
floor. Even the dog snores. Earlier, 
Disco ran across our tarot cards, shuffling 
a wrangled meaning into fate. The Hermit. 
The Star. The Hanged Man. I try to string 
together half-correlations. I want to drink 
more. I open the window and inhale.
I look into the dark and wonder 
how we can piece it all together.


St. Petersburg in January


maybe it is not seeing-eye dogs training 
in the grass I pass or the street vendors
selling sunglasses tamales and watercolors
or the waves that touch a difficult nerve
which snap me into a more relaxed reality
or the toaster-oven croissant at the French
bakery on Ocean Avenue but the cranes
that lift off skyscrapers in the heavy wind
that make me want to punch real estate
developers in the jaw or somesuch non
sensical violence bear trap tourist trap
somewhat Floridaesque my happy life
on blast it is dynamite at a luxury
construction site this weekend


You Celebrate Your Birthday While I Have a Religious Experience


Learning how to swim– 
can't say I haven't
counted hours stars 
float in the night infinite 
darkness I cannot claim 
sanctity within us. You point
to Orion like a familiar
neighbor like I would point 
to a passing thought or ripple 
believing it significant 
as the moment passes.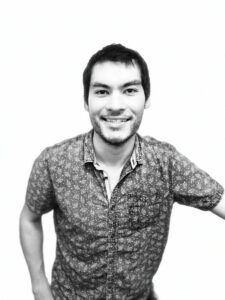 James Croal Jackson works in film production. His most recent chapbooks are Count Seeds With Me (Ethel Zine & Micro-Press, 2022) and Our Past Leaves (Kelsay Books, 2021). Recent poems are in Stirring, White Wall Review, and Vilas Avenue. He edits The Mantle Poetry from Pittsburgh, Pennsylvania. (jamescroaljackson.com)