From under mud
I have heard the colors speak to me,
learned them differently
by setting one beside another.
It's always the same —–
this desperate beginning
on a turpentine foundation.
I would like to let things be,
leave the appropriate images
where they first were —–
In news clips, in nightmares,
the ruined opening a soldier
walks through holding
some child's hand…..
Some childhoods are such camouflage
the mortar, the fire-pocked bricks,
& escape through canvas,
canvas & nothing else …..
So that is what these mud colors tell,
& me, what do I know
rising out to scrape myself off
with a palette knife?
I only know that turpentine burns
& that the painting by daylight
may peel like a dream.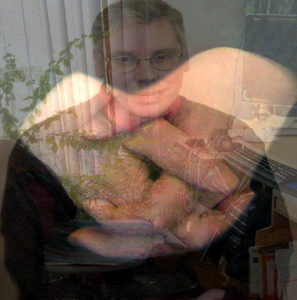 Stephen Mead is an Outsider multi-media artist and writer. Since the 1990s he's been grateful to many editors for publishing his work in print zines and eventually online. He is also grateful to have managed to keep various day jobs for the Health Insurance. More can be learned about his writing and multi-media work by Googling Stephen Mead Art.





Robin Ouzman Hislop is Editor of Poetry Life and Times his publications include All the Babble of the Souk and Cartoon Molecules collected poems and Key of Mist the recently published Tesserae translations from Spanish poets Guadalupe Grande and Carmen Crespo  visit Aquillrelle.com/Author Robin Ouzman Hislop about author.  See Robin performing his work Performance (Leeds University) .