What's her name again – Deirdre Lyn.
She goes to law school. She plays field hockey
Summers spark with
the sheer will of her being.
Septembers are softer now
than a head on a pillow.

But then I feel your stomach
and you shake your head.
A tear emerges from your right eye,
the closest your body ever comes
to giving birth.

So I must watch over her
with my eyes shut.
Nail my lips together
to encourage her dreams.
Squeeze her to my chest
until she's thinner than
the shirt I wear.

Deirdre Lyn – she comes to me in a dream
and says she's met someone.
Yes, she met me.
And no one else ever.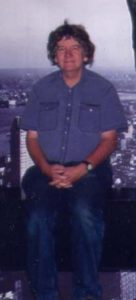 John Grey is an Australian poet, US resident. Recently published in New Plains Review, South Carolina Review, Gargoyle and Big Muddy Review with work upcoming in Louisiana Review, Cape Rock and Spoon River Poetry Review. To view more of his work www.motherbird.com & www.artvilla.com



www.facebook.com/PoetryLifeTimes
www.facebook.com/Artvilla.com
[email protected]
[email protected]

goodreads.com/author/show/Robin Ouzman Hislop
http://www.aquillrelle.com/authorrobin.htm
http://www.amazon.com. All the Babble of the Souk. Robin Ouzman Hislop
www.lulu.com. All the Babble of the Souk. Robin Ouzman Hislop
https://www.amazon.com/author/robinouzmanhislop
http://www.innerchildpress.com/robin-ouzman-hislop.All the Babble of the Souk