(i.)

Pure

Standing under the downpour
of a cold shower trying to scrub away this
dull movement that spreads within me darkly.
Even the water is disgusted by my failures,
abandoning me for the moist escape of the plug hole.


(ii.)
Dental Care

Flossing my teeth, I noticed her toothbrush
still there in the mug on the sink.
I picked it up,
feeling the bristles rough underneath
the flesh of my thumb &
dropped it in the trash
knowing she'd never use it again.


(iii.)
It's Time to Go Home

There's a rent dodging fool
called Love in my heart with a
loaded .38 in his fist &
a bullet-riddled target in sight but
the last train is at the final station.
The lights snap off one by one,
I can't remember where I left my coat.


(iv.)
OCD Dinner Date

I notice the finger smudges on the surface of the table.
Listening to the buzzing fan circulating the dusty air.
A water stain a smirk on a fork.
Someone on a table across the way snorts and sniffs.
I've lost my appetite but will grin through dinner
until the check comes, go home and shower.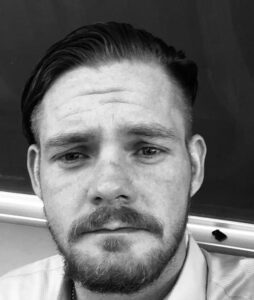 Stephen J. Golds was born in London, U.K, but has lived in Japan for most of his adult life. He enjoys spending time with his daughters, reading books, traveling, boxing and listening to old Soul LPs. His novel Say Goodbye When I'm Gone will be released by Red Dog Press in October 2020 and another novel Glamour Girl Gone will be released by Close to The Bone Press January 2021







Robin Ouzman Hislop is Editor of Poetry Life and Times at Artvilla.com ; his publications include

All the Babble of the Souk , Cartoon Molecules, Next Arrivals and Moon Selected Audio Textual Poems, collected poems, as well as translation of Guadalupe Grande´s La llave de niebla, as Key of Mist and the recently published Tesserae , a translation of Carmen Crespo´s Teselas.

You may visit Aquillrelle.com/Author Robin Ouzman Hislop about author. See Robin performing his work Performance (University of Leeds)