oh moon, did you stop a while
to consider, what of the ocean?
How is he to bear your weight
in his liquid, unformed arms?
He ripples over you, trying
to bring you back to life, but
you lay unbreathing, torpefied
like possums in presence
of hunters.


The night will bring you none
of the justice you seek;
there will be no incarnations
of your plight or adversaries,
your voice will beat like stones
against deadened walls
of overused mercy.


The sky goes about its job,
unaffected, by your call
for trial, you have jumped
in vain. Did the stars not tell
of the written book?
The clouds have gathered
over your dimming body;


the ocean roars at the sky,
his enormous waves gush
like a whale's death song
for pity. The clouds open,
throwing back the waves
into his inlet as you drown
deeper into pitless realities
of a wasted suicide.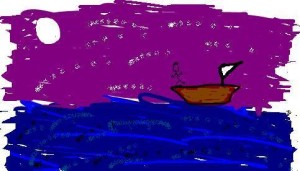 Sheikha A. comes from Pakistan and United Arab Emirates. Her work has appeared in numerous magazines, ezines and anthologies and hopes for her work to be read and discussed widely. More of her work can be found on her blog sheikha82.wordpress.com



www.facebook.com/PoetryLifeTimes
www.facebook.com/Artvilla.com
robin@artvilla.com
editor@artvilla.com


http://www.aquillrelle.com/authorrobin.htm
http://www.amazon.com. All the Babble of the Souk. Robin Ouzman Hislop
www.lulu.com. All the Babble of the Souk. Robin Ouzman Hislop
https://www.amazon.com/author/robinouzmanhislop
http://www.innerchildpress.com/robin-ouzman-hislop.All the Babble of the Souk