(i.)

Freedom of Fences

Dear _____, I lust her—though
she cannot know. It's a painful thing—
a tightness of the chest. I keep having to stop
myself from ending each email
with "love, R". But appearances
being what they are—I end with "best",
but I know what I mean—so there's that.

(ii.)

Fountain Statue

When it was still years ago—
before I saw that girl

with a flower in her ear; before
that flower grew—
I missed a summer day.
My broken English stands better

than my unwhistling lips and tonight
I meet a German poet
I've never heard. He's a park

statue I can touch and feel the shoulder curve of his
bronze rather than the fountain statues whose jagged edges—
or if they're soft it's only the mollification
of time and distance—I can only feel
with my eyes. The ones I walk in circles around

wishing to walk on water. I took a photo of the tin-can moon
electrified by lightning
to understand the part of me that'll go to this meeting
in the name of—it rained in Munich today.

(iii.)

The Color of a Snuffed Flame

Woken by a trumpet sounding.
There are things
we're meant to make, some
less definite than knots and a box. I watched

a Boeing 747—there was a girl
who taught me to do that—and thought
of the 369 lives in it and those
stories. This is too much; people have their minutes
which added together equal a life
and all the plots and coincidences that live therein.

The butterfly house in Vienna
was beautiful though hot, small
and expensive. Filled with kids
more interested in the fish,
parents who wished their kids
would look at the butterflies,
and one woman taking pictures
of a dead butterfly. Tomorrow I'm

going to a fair to win a stuffed animal.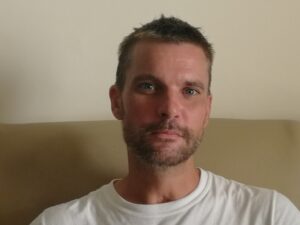 Bio: Ryan J. Davidson's first book, Under What Stars, was published in 2009 by Ampersand Books.​ His second collection, Statues Need Stories, was published in 2019 by CyberWit. He is Assistant Professor of Humanities and Comparative Inquiry at Habib University in Karachi, Pakistan.






Robin Ouzman Hislop is Editor of Poetry Life and Times at Artvilla.com ; his publications include

All the Babble of the Souk , Cartoon Molecules, Next Arrivals and Moon Selected Audio Textual Poems, collected poems, as well as translation of Guadalupe Grande´s La llave de niebla, as Key of Mist and the recently published Tesserae , a translation of Carmen Crespo´s Teselas.

You may visit Aquillrelle.com/Author Robin Ouzman Hislop about author. See Robin performing his work Performance (University of Leeds)