Spondylotic Lines
stand face to face
keeping their eyes and hearts open
as if
they intent to intersect one another
touching
the epi-center of their pain and gain
assuming
the Sun and the other ancillaries are still
happy to be blind.
Alas!
Why the other Lines are not visible?
Why the equi-lines are repulsive?
The dreadful disease
keeps all the individual Lines
in turning mode
enabling them to watch only
the ever-hanging tongues
of their own flexible pencils.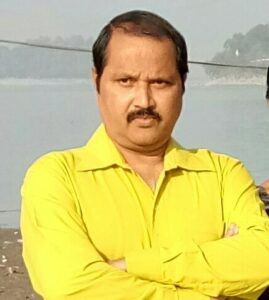 Biography — Pijush Kanti Deb is an Indian poet more than 30with0 published poems published in more than 100 potry magazines and journals world -wide. Beneath the Shadow of a White Pigeon is his only poetry collection. He is an Associate Professor in Economics in Nagaland (India).






Robin Ouzman Hislop is Editor of Poetry Life and Times at Artvilla.com ; his publications include

All the Babble of the Souk , Cartoon Molecules, Next Arrivals and Moon Selected Audio Textual Poems, collected poems, as well as translation of Guadalupe Grande´s La llave de niebla, as Key of Mist and the recently published Tesserae , a translation of Carmen Crespo´s Teselas.

You may visit Aquillrelle.com/Author Robin Ouzman Hislop about author. See Robin performing his work Performance (University of Leeds)