(i)
For Gregory Corso
Dying in the town whorehouse in the old west would've been a dream,
No gunshots
No lawmen
Just natural causes.
I'd feel for my horse though
Hoping someone would've told her that it was quick,
Out of courtesy.
(ii)
Spitting into The Wind
There's a door I know that remains jammed,
It is a pathway with blood spatters
A portal to felonious aggravation
To know this vestibule is to have lived years,
With wounds continually allowed momentary respite
Just to be operated on in jest..
You have no recourse but to build a house around the door
Adjacent to the house you'll construct a forest,
You've survived all these years and have handpicked the one to see this door rejiggered,
Be made into something of value, import, and catharsis
Always getting to the future tense while sitting down and loaded,
Understanding full well that the door will never be open,
That there is no mystery
You've just run into another one of us.
Enjoy.
(iii)
Complete Terms And Conditions
I thought on the air I breathed in,
My lungs taking it, and expelling out
The variations of light in my iris, and the feeling of bereavement
Not on loss, but on my own vindictiveness
My own ledger full of the profit and leisure
Hand scribed so there are no tall tales.
The kitchen is cobalt blue
Sinking into the ochre chair
Believing in goldenrod traumas,
I will destroy every town
Every friendship
Every understanding,
Just to not let you know my side of the story
That is how you walk out of a place,
With vigor.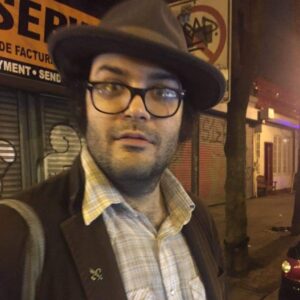 Joe Sonnenblick is a Native New Yorker who was a regular contributor to the now defunct Citizen Brooklyn magazine. Joe has been featured in publications such as In Parentheses for their 6th volume of poetry and The Academy Of The Heart And Mind, and Impspire Literary Review, The Bond Street Review Upcoming publications include: Aji for the Spring 2021 issue, and Ethel for the June/July 2021 issue. He can be at Instagram @JS_Livingpoetrymovement






Robin Ouzman Hislop is Editor of Poetry Life and Times at Artvilla.com ; You may visit Aquillrelle.com/Author Robin Ouzman Hislop about author & https://poetrylifeandtimes.com See Robin performing his work Performance (University of Leeds)