If you knocked now, 23 years later,
what would I tell you over tea and biscuits?
I'd show you my book of poems, blushing, proud,
and my degree certificate. You missed them both.
I'd reminisce. I'd remind you of the fun we had.
I'd tell you I've learned to love trash telly since.
I've even read a few detective novels.
I'd tell you I have found real love at last;
she has seen me at my worst and still accepts me.
I'd say I think you'd love her; she's my perfect match
and I'm happy, though not quite a grinning fool
with my illness. We'd have speak of that as well.
I wouldn't have to tell you that your loss
was like an arm hacked off that never truly healed.
I wouldn't have to say it. You would know.
Every hesitation, every facial tic I made
would tell you what my words concealed.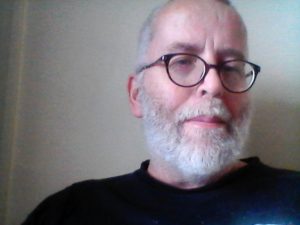 Bruce Hodder has had his poems appear in Crossroads, Medusa's Kitchen, Best Poetry, The Rye Whisky Review and Duane's Poet Tree, among others. This year he also published his collection The Journey Home with Whiskey City Press. He lives with his wife Michelle in Northampton, England.








Robin Ouzman Hislop is Editor of Poetry Life and Times ; his publications include

All the Babble of the Souk , Cartoon Molecules and Next Arrivals, collected poems, as well as translation of Guadalupe Grande´s La llave de niebla, as Key of Mist and the recently published Tesserae , a translation of Carmen Crespo´s Teselas.

You may visit Aquillrelle.com/Author Robin Ouzman Hislop about author. See Robin performing his work Performance (University of Leeds)