She was a fishing smack
Of maybe forty feet
Somehow foundered and come to rest
In our little harbor.

The crew just walked away,
There were no harbor police in those days.
She just sat there, listing over
A little more every month.

We boys scrambled aboard
Against our parents' strict orders
Whenever we could escape surveillance.

We were looking for treasure
Or guns, or cigarettes,
Or naked women, sprawled and helpless.

The best we ever found
Was a couple of hunting knives
And some black-and-white mens' magazines
That didn't show as much as we could see
Sneaking past big sister's bathroom.

In retrospect it was kind of a waste
But at the time it was stranglingly exciting.

The thrill of the chase,
Of the unknown,
Of the infinitely possible.

It never recedes. Never.

Are you free tonight?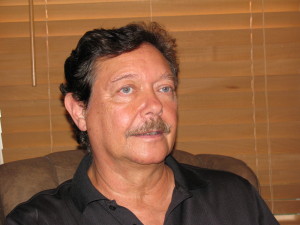 Andrew Hubbard was born and raised in a coastal Maine fishing village. He earned degrees in English and Creative Writing from Dartmouth College and Columbia University, respectively.

For most of his career he has worked as Director of Training for major financial institutions, creating and delivering Sales, Management, and Technical training for user groups of up to 4,000.

He has had four prose books published, and his fifth book, a collection of poetry, was published in 2014 by Interactive Press.

He is a casual student of cooking and wine, a former martial arts instructor and competitive weight lifter, a collector of edged weapons, and a licensed handgun instructor. He lives in rural Indiana with his family, two Siberian Huskies, and a demon cat.

See Andy Hubbard's new book at http://ipoz.biz/portfolio-single/the-divining-rod/




www.facebook.com/PoetryLifeTimes

[email protected]
[email protected]

Key of Mist. Guadalupe Grande.Translated.Amparo Arróspide.Robin Ouzman Hislop

goodreads.com/author/show/Robin Ouzman Hislop
http://www.aquillrelle.com/authorrobin.htm
http://www.amazon.com. All the Babble of the Souk. Robin Ouzman Hislop
www.lulu.com. All the Babble of the Souk. Robin Ouzman Hislop
https://www.amazon.com/author/robinouzmanhislop
http://www.innerchildpress.com/robin-ouzman-hislop.All the Babble of the Souk