Dave M Jackson is the Admin at Artvilla.com where his works are featured extensively.
Andy Derryberry is a performing musician & poet whose works are also featured extensively at Artvilla.com

You can also read further works by Luz Pichel at https://www.artvilla.com/harriet-tubman-was-born-araminta-ross-and-other-poems-by-luz-pichel-translated-by-amparo-arrospide-and-robin-ouzman-hislop/

Translations Amparo Arróspide & Robin Ouzman Hislop


Bio Photo. Luz Pichel & Amparo Arróspide. November 2017. Madrid.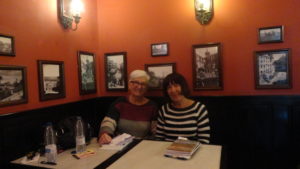 Luz Pichel was born in 1947 in Alén (Lalín, Pontevedra), a tiny village in Galicia. Alén means "beyond" and also means "the beyond". There she learned to speak in a language that could die but does not want to. Those who speak that language think that it is always others those who speak well.
She is the author of the poetry books El pájaro mudo (1990, City of Santa Cruz de la Palma Award), La marca de los potros (2004, XXIV Latin American poetry prize Juan Ramón Jiménez), Casa pechada (2006, Esquío Poetry Award ), El pájaro mudo y otros poemas (2004), Cativa en su lughar / Casa pechada (2013), Tra (n) shumancias (2015) and Co Co Co Ú (2017).
Part of her work Casa pechada was translated into English and Irish in the anthological book To the winds our sails: Irish writers translate Galician poetry, Salmonpoetry, 2010, ed. Mary O'Donnell & Manuela Palacios.
Neil Anderson translated into English Casa pechada. Several poems appeared in his blog (re) voltas; July, 2014.
Several poems from Casa pechada appeared in the American magazines SALAMANDER, No. 41, year 2015, and PLEIADES, vol. 36, Issue 2, p. 117, year 2016, in English translation by Neil Anderson.


Amparo Arróspide (born in Buenos Aires) is an M.Phil. by the University of Salford. As well as poems, short stories and articles on literature and films in anthologies and international magazines, she has published five poetry collections: Presencia en el Misterio, Mosaicos bajo la hiedra, Alucinación en dos actos y algunos poemas, Pañuelos de usar y tirar and En el oído del viento. The latter is part of a trilogy together with Jacuzzi and Hormigas en diaspora, which are in the course of being published. In 2010 she acted as a co-editor of webzine Poetry Life Times, where many of her translations of Spanish poems have appeared, she has translated authors such as Margaret Atwood, Stevie Smith and James Stephens into Spanish, and others such as Guadalupe Grande, Ángel Minaya, Francisca Aguirre, Carmen Crespo, Javier Díaz Gil into English. She takes part in poetry festivals, recently Centro de Poesía José Hierro (Getafe).


Robin Ouzman Hislop is Editor of Poetry Life and Times his publications include All the Babble of the Souk and Cartoon Molecules collected poems and Key of Mist the recently published Tesserae translations from Spanish poets Guadalupe Grande and Carmen Crespo visit Aquillrelle.com/Author Robin Ouzman Hislop about author. See Robin performing his work Performance (University of Leeds) .