Two burnt effigies
flank the dry dirt track,
one of Greta Thunberg,
another of Mad Max
Just one road,
one direction,
across a dessert
that has no end:
A traffic jam
in tomorrow's land
(vending machines
are empty)
All that trade
All that plastic
All those soldiers
All those Laws
Tell me why
they all speak
the same Language
of water Addicts
in that Oasis
of tin and oil
of heavy metal
of guilt and sweat.
All that Science
All those prayers
All those poems
All that Love
Premium seats
in Noah's Coach
Chorus of Crickets
orphans of trees
A yellow Finale
of gravity sour
of Mass unaccomplished
of Time that won't be
All those flowers
All that Music
All that laughter
All that Sex
The story ends when blood becomes so thin that it evaporates, forming clouds that would suffocate the melting mirage in the Monopolitan Globe.
Time to return home from Utter Space, and invent a better fable.
(August 2019, Mad Max: Fury Road and Abu Dhabi)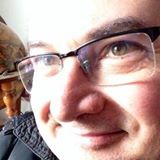 Antonio Martínez Arboleda:
Antonio (Tony Martin-Woods) started to write poetry for the public in 2012, at the age of 43, driven by his political indignation. That same year he also set in motion Poesía Indignada, an online publication of political poetry. He runs the poetry evening Transforming with Poetry at Inkwell, in Leeds, and collaborates with 100 Thousands Poets for Change 100tpc.org/. Tony is also known in the UK for his work as an academic and educator under his real-life name, Antonio Martínez Arboleda at the University of Leeds. His project of digitisation of poetry, Ártemis, compiles more than 100 high quality videos of Spanish poets and other Open Educational Resources. http://www.artemispoesia.com/ .
He is the delegate in the UK of Crátera Revista de Crítica y Poesía Contemporánea , where he also publishes his work as translator from English into Spanish. He published his first volume of poetry in Spanish, Los viajes de Diosa (The Travels of Goddess), in 2015, as a response to the Great Recession, particularly in Spain. His second book, Goddess Summons the Nation Paperback ,  Goddess Summons the Nation Kindle Edition , is a critique of the ideas of nation and capitalism, mainly in the British Brexit context. It incorporates voices of culprits, victims and heroes with mordacity and rhythm. It consists of 21 poems, 18 of which are originally written in English, available in print and kindle in Amazon and other platforms. Editor's note: further information bio & academic activities can be found at this link: https://ahc.leeds.ac.uk/languages/staff/91/antonio-martinez-arboleda
Robin Ouzman Hislop is Editor of Poetry Life and Times ; his publications include

All the Babble of the Souk , Cartoon Molecules and Next Arrivals, collected poems, as well as translation of Guadalupe Grande´s La llave de niebla, as Key of Mist and the recently published Tesserae , a translation of Carmen Crespo´s Teselas.

You may visit Aquillrelle.com/Author Robin Ouzman Hislop about author. See Robin performing his work Performance (University of Leeds)