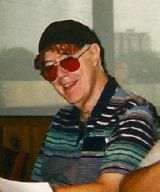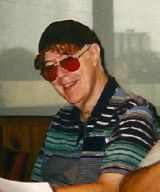 Jim Dunlap  Author                                         
Nebulous writhings, pure emotion,
like the last, inchoate notion
destroying life's pure, flaring fire
across untrammeled leagues of hell.
Colors shooting blinding schism
lighten dark, unfettered dreams.
Sunlight, filtered by a prism,
Thus from behind these prison bars,
     the savant yearns to claim the stars.
Jim Dunlap's poetry has been published extensively in print and online in the United States, England, France, India, Australia, Switzerland and New Zealand. His work has appeared in over 90 publications, including Potpourri, Candelabrum, Mobius, Poems Niedernasse, and the Paris/Atlantic. He was the co-editor of Sonnetto Poesia and is currently a Content Admin for Poetry Life & Times. www.facebook.com/PoetryLifeTimes He is also the chief proofreader for the On Viewless Wings Anthologies, published out of Queensland, Australia. In the past, he was a resident poet on Poetry Life & Times and the newsletter editor for seven years with the Des Moines Area Writers' Network.
You may find him here:
http://www.thehypertexts.com/Jim%20Dunlap%20Poet%20Poetry%20Picture%20Bio.htm
Here: http://www.whoislog.info/profile/jim-dunlap-poet.html
Homepage: http://mindfulofpoetry.homestead.com/index.html
Here: http://www.pw.org/content/jim_dunlap_1
Here: http://www.artvilla.com/plt/currentoct06.html
Here: http://allpoetry.com/contest/2602767-Poems-for-Jim-Dunlap–
Here: http://classicalpoets.org/fairy-dust-anarchy-and-other-poetry-by-jim-dunlap/
Here: http://classicalpoets.org/fairy-dust-anarchy-and-other-poetry-by-jim-dunlap/
Here: http://www.smashwords.com/books/view/109492
Here: http://allpoetry.com/column/9188321-Book-Review-The-Spirit-of-Christmas-in-Poetry-by-Jim-Dunlap-by-WandaLeaBrayton
***
editor@artvilla.com
robin@artvilla.com
www.facebook.com/PoetryLifeTimes
www.facebook.com/Artvilla.com