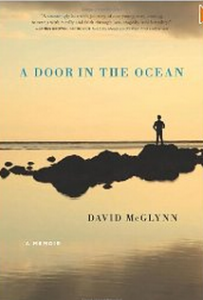 New book: A Door In The Ocean by David McGlynn. The new book A door In The Ocean is a fascinating story where David reflects on the unsolved murder of his closest friend and high school teammate. We thought this new book has a great story line and David does a wonderful job in the new book of dramatizing swims in open water.
New Book
A Door In The Ocean by David McGlynn relives an event that shattered peers and led the author into the radical world of evangelical Christianity. A second swimming-related tragedy and the prospect of fatherhood caused McGlynn to question his beliefs.
More information on the book can be found at: NPR, A Door In The Ocean.
New Book
Here is an excerpt from A Door In The Ocean by David McGlynn:
"In the ocean, I was not afraid, though I had plenty of reason to be. The water was dark and cold, the waves could swell to enormous heights, and no one knew where I was. I didn't want anyone to know where I was. I wanted to edge away from myself. I'd left everything I owned on shore, and feeling the cold water work its way into the creases of skin beneath my arms and behind my knees, I was reduced to the raw dimensions of my anatomy, all body, no spirit, and so free from the burdens my spirit demanded."
We hope you enjoy David's new book!
Review by Edward Beshears