From BURNING CARTOGRAPHY
The Poetry of Noni Benegas
Translated by Noël Valis
Another Light
For Paul Virilio
Groping through the house, blind steps
of chalk
with the light of dreams
suddenly opaque or radiant
Who shimmers that screen
in the darkened brain?
Like skin withering on the inside
the mystery of that glow persists
Otra luz
A Paul Virilio
A tientas por la casa con pasos
de tiza
con la luz de los sueños
tan pronto opaca o radiante
¿Quién alumbra esa pantalla
en el cerebro a oscuras?
Como la piel se aja desde dentro
el misterio de ese fulgor persiste
**
A Flower
For Ana Basualdo
The camellia sliver in the wake
of the boat at night
when the petal draws back
a trembling universe
like the line of flotation
**
Una flor
Ana Basualdo
La tenue camelia en la estela
del barco nocturno
cuando el pétalo descorre
un universo trémulo
como la línea de flotación
**
Traveling
Travelers who reach Medina de Raj-Kasar
are surprised to see its image repeated
–for instance—in the guide's
topaz ring or in the pool-encircled moat
or even in the festive fountain's inner courtyard
Travelers who reach Medina de Raj-Kasar
after crossing between two moons
the desert of Al-Ahmir
sigh before the delicate towers and dream
of filigreed chambers and soothful hookahs
Do travelers reach Medina
or someone reach Raj-Kasar at a precise moment
dusty curious indolent?
Medina de Raj-Kasar traveling toward the Atlas
of travelers
is pleasantly surprised before the fresh-faced passenger
standing intrepid in the middle
of the glittering oasis
**

Viajar
Los viajeros que llegan a la Medina de Raj-Kasar
se sorprenden al divisar su imagen repetida
–pongamos por caso—en el anillo de topacio
del guía o en la acequia que rodea el foso
o aun en la fuente que acoge el patio interior
Los viajeros que arriban a la Medina de Raj-Kasar
luego de atravesar entre dos lunas
el desierto de Al-Ahmir
suspiran ante las finas torres y sueñan
con el salón filigranado y el narguile conciliador
¿Llegan los viajeros a la Medina
alguien arriba en un momento preciso a Raj-Kasar
polvoriento curioso indolente?
La Medina de Raj-Kasar viajando hacia los viajeros
del Atlas
se sorprende gratamente ante el rubicundo pasajero
que se alza impávido en medio
del iridiscente oasis
**
Frida Kahlo
For Jan Lumas
Was it a work of art or her desire? a column
like harvested steel then fangs like jade
careening steeply
It beat with the bold haste
of temples foretold: the wind adrift
in teeth the eyebrows a buffalo bower
the stamp of the sphinx on asphalt
Was it a work of art or her desire? a column
of damp chalk posed day after day beneath the
agile pupil forever flowering
**
Frida Kahlo
A Jan Lumas
¿Era una obra de arte o su deseo ? una columna
de símil de acero segada más una alta carena
de colmillos de jade
Latía con la prisa impávida
de los templos futuros: el viento entornado
entre los dientes las cejas de dosel de búfalo
la impronta de esfinge sobre el asfalto
¿Era una obra de arte o su deseo ? una columna
de tiza húmeda posada día tras día bajo la
ágil pupila en floración perenne
**
Interruptions
Is it true her face keeps the impressions
of wakefulness,
the landscape seen through the train window
fleetingly deciphered;
is it true her face is interrupted?
Seated across from me
was the sacred icon
of an old Hollywood actress
old age stamped in her features,
not definitively decayed,
but very close.
In improbable transit
those features;
an abandoned aerodrome
with grass on the runway and wind
from the ends of the world.
But there is a canal
that boats go up, of liquid
crystal, oars and noises and houses
alive on its banks,
Her face swarms
swirling with malice.
Could she only have seen what she saw?
As if something were suspended
between two canals
in the stagnant waters of her cheek . . .
Is it true her face is interrupted,
what if the interruption isn't a landscape or a sound
but simply me?

**
Interrupciones
¿Hasta qué punto su rostro guarda las impresiones
de la vigilia,
el paisaje visto a través de la ventanilla
descifrado por momentos;
hasta qué punto su rostro tiene interrupciones?
Sentada frente a mí
era un Buey Apis que era
una vieja actriz de Hollywood
pues anunciaba la vejez en sus rasgos,
no definitivamente añeja,
pero ya próxima.
De tránsito improbable
esos rasgos;
cerrado un aeródromo en desuso
con hierbas en la pista y viento
de techo del mundo.
Mas hay un canal
que las barcas remontan de cristal
fluido, remos y ruidos y casas
vivas en las orillas,
hay un hormigueo en su rostro
hecho de malicia y remolinos.
¿Sólo habrá visto lo que vio?
Si algo quedara en suspenso
entre dos canales
en el remanso de la mejilla . . .
¿Hasta qué punto su rostro tiene interrupciones,
si la interrupción no fuera paisaje o sonido
sino simplemente yo?
**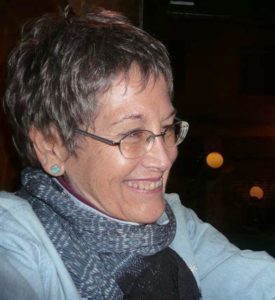 Noni Benegas, born in Buenos Aires and resident in Spain since 1977, is the author of seven books of poetry; a selection is collected in El Ángel de lo súbito, Ed. Fondo de Cultura Económica, (Madrid, 2014). Burning Cartography, Ed. Host, (Austin TX, 2007 and 2011) is a selection of these poems in English, and Animaux Sacrés, Ed. Al Manar (Séte 2013) in French. She has won the Platero Prize from the UN in Geneva; the Miguel Hernández National Prize for Poetry, as well as Vila de Martorell award, the Rubén Darío Prize from Palma in Mallorca, the Esquío Prize in Galicia. She is the author of the influential anthology of contemporary Spanish women poets Ellas tienen la palabra, Ed. Hiperión (Madrid, 2008, 4th edition) whose introductory essay, with a new prologue, articles, interviews and an epilogue has been recently collected by Ed. Fondo de Cultura Economica in 2017 with the same title. Ellas Resisten. Mujeres poetas y artistas (1994-2019) is a selection of her essays on women writers and artists published by Ed. Huerga & Fierro


Robin Ouzman Hislop is Editor of Poetry Life and Times ; at Artvilla.com
You may visit Aquillrelle.com/Author Robin Ouzman Hislop about author. See Robin performing his work Performance (University of Leeds)