Gold
Janet Kuypers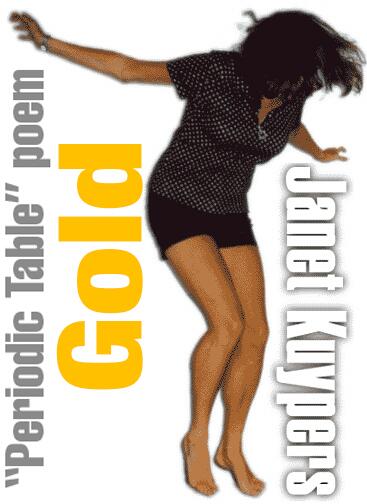 from the "" Periodic Table of Poetry" series (#079, Au)
Golden lights, displaying your name
When I saw you, I was so attracted to you.
Your Golden hair reflected the sunlight
the day we met,
and ever since our first encounter,
I desperately needed you with me.
You bought me gold jewelry,
and to this day I wear
your Gold chain around my neck,
your Gold ring around my finger.
You were go soft,
and I would do whatever you wanted,
but as time wore on,
I saw you would bend to me as well —
you seemed so malleable
when it came to you and me.
I loved how my Golden boy
would follow any choice I made
when we were together.
Golden lights, displaying your name,
Golden lights, it's a terrible shame
You were like the glow of sunrise,
and when we were together,
you were coursing through my veins.
You were so valuable to me.
You were so precious to me.
I would have even consumed you,
if you gave me the chance.
Golden slumber steals your eyes
But you never gave me that chance,
and it was like the world was heartbroken
as so many came to your coffin
to see your Golden hair one final time.
They called me a Gold digger
because before before your cremation
doctors had your Gold fillings removed.
I kept your Gold wedding ring, too,
that must also make me a Gold digger.
In my mind,
you were perfection for me,
you were the summit
of everything that mattered to me.
When I think of how pure you were,
to this day,
nothing tarnishes my love for you.
That is why, on some early mornings,
I step outside
and feel the glow of the morning sunrise,
to remind me
of our neverending love.
(the first two italicized sets of lines are from the song
"Golden Lights&#8221, by the Smiths. The last italicized line
is from the song "Golden Lights&#8221, by the Beatles.)